What's the Plenum Do for Business? A Question for U.S. Treasury Secretary Jacob Lew
by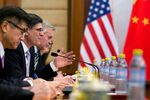 With U.S. Treasury Secretary Jacob J. Lew visiting Beijing on Nov. 15 and 16, it's worth considering what the just-closed plenum might mean for the U.S.-China business and economic relationship. Washington has said priorities include getting Beijing to allow a freely-floating yuan more quickly, a move that may be slow in coming. U.S. companies are hoping for more access to the China market.
The communiqué, perhaps not surprisingly, had little specific to say about how China might further open its economy to foreign business. It did, however, mention China's free trade zones, once again in the spotlight following the opening of the new Shanghai Free Trade Zone on Sept. 29. "We must relax investment access, accelerate the construction of free trade zones and expand inland and coastal openness," the communiqué states.
China's FTZs may be a good window into understanding where, on a national level, Beijing intends to liberalize and where it will not. A look at China's so-called negative list, popularized with the new Shanghai zone, where Beijing has named those industries still closed to foreign investors, tells us what sectors are still off limits. "Fitch expects the government to maintain a tight grip over the negative list—the highly strategic sectors—while other sectors (the positive list) could see more liberalization and reform," write Ying Wang and Steve Durose, analysts at Fitch Ratings in a Nov. 15 note.
Those specified as closed to foreign investors and so likely to remain untouched by broader reforms include agriculture, railways, airlines, nuclear power, and China's power grid, Fitch points out. The oil and gas sector, sectors with overcapacity (such as ferrous metals), and ideologically-sensitive areas, such as media, will likely see very limited or no opening to competition as well.
Meanwhile, more consumer-oriented service sectors are likely to be at least gradually opened to foreign companies and private Chinese enterprises. Those include retail, professional services, technology, health care, education, and culture, as well as shipping and logistics. "Given their strong growth potential, these sectors will benefit from the liberalization of the market and lowering of ownership restrictions," the Fitch analysts write. "Such changes would be consistent with government goals to promote consumer spending, in order to deliver more sustainable long-term economic growth."
Lew, in opening remarks to Vice Premier Wang Yang on Nov. 15 in Beijing, said he aims to push for "a level playing field for trade and investment, strengthening the protection and enforcement of intellectual property, including trade secrets, and further opening the financial markets," reported the Wall Street Journal.
Before it's here, it's on the Bloomberg Terminal.
LEARN MORE