Proof Warren Buffett Doesn't Take Investing Cues From Al Gore
By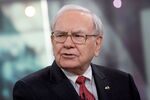 Two weeks ago, former Vice President Al Gore co-wrote an op-ed in the Wall Street Journal, foretelling a crash in fossil-fuel demand, and with it a crash in the value of oil and gas investments. Gore compares the current fossil fuel industry to the subprime housing market circa 2007 or so. As he sees it, the "subprime carbon-asset bubble" is about to explode.
Here's the rationale:
"[T]he International Energy Agency has calculated a global "Carbon Budget" that accommodates the burning of merely one-third of existing fossil fuel reserves by 2050. Put differently, at least two-thirds of fossil fuel reserves will not be monetized if we are to stay below 2°C of warming—creating "stranded carbon assets."
In other words, whether due to a carbon tax, market forces, or simple "sociopolitical pressures," Gore sees a future where oil and gas companies won't be able to sell most of the resources they've spent billions trying to find and extract. That indeed would be catastrophic to most energy companies on the planet—a loss of trillions of dollars of invested capital. Get out now, Gore is urging us, lest your money go up in a poof of carbon taxes.
But you know who's not worried? Warren Buffett. He just plunked $3.7 billion into Exxon Mobil, the biggest oil company in the world.
According to its 2012 annual report (PDF), Exxon had a resource base of 87 billion oil-equivalent barrels last year. When it comes to finding that oil, despite its size, Exxon is about as efficient as they come. According to Bloomberg data, Exxon spends just $19.27 to find a barrel of crude. That compares to $21.48 for Chevron and $21.66 forBP. With the price of oil averaging $79 a barrel over the last decade, this makes for a pretty good return on investment.
That's part of what makes Exxon so attractive to Buffett. Most energy analysts foresee the price of oil falling over the next five years. If any company can make money amid falling prices, it's Exxon.
Buffett is also buying what he sees as a cheap asset. Exxon's shares have risen 6.4 percent since January, compared to a 23 percent rise in the S&P 500-stock index. Since Buffett's position was announced, shares of Exxon have popped by $2. Since Gore's op-ed appeared, they're up $6.
It's not clear whether Gore and his co-author, David Blood, a senior partner with Generation Investment Management, are actively shorting the stocks of oil and gas firms. My guess would be negative. Gore is chairman of GIM, a firm he co-founded with Blood in 2004, and its mission statement wraps itself in sustainability and throws around financial buzzwords such as "sustainable capitalism." Yet a look at GIM's portfolio does not reveal a fund that's all that much invested in the renewable space.
It looks instead as if the firm's definition of sustainable capitalism refers more to owning shares of medical device and laboratory science companies. As of September, Danaher, Henry Schein, Waters Corp, and Becton Dickinson made up GIM's four largest positions. They've all been killer investments over the last 12 months. The laggard of the group, Waters, is up 25 percent since last November.
But sustainable? I'm not so sure. You'd think a couple of guys writing about the coming crash of oil investments would make a point of having renewable energy as a bigger part of their portfolio. Maybe GIM will do so will over the next few years. In the meantime, Warren Buffett's sticking to the basics: oil, trains, ketchup, insurance.
Before it's here, it's on the Bloomberg Terminal.
LEARN MORE