pursuits
Intrawest's Ski Business Goes Downhill Toward IPO
By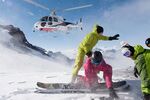 There's a saying among skiers and snowboarders: "Go big or go home." Intrawest Resorts, a giant in the skiing business, has chosen the former.
The Denver-based company has filed plans for an initial public offering shortly after one of the worst winters for snow on record and while mountain real estate is still digging out from the 2008 recession. The company's plan to huck onto Wall Street could be a disaster.
Sure, Intrawest's assets are impressive. It has stakes in seven North American resorts, owning outright Steamboat, Winter Park, Mont Tremblant, Stratton, and Snowshoe Mountain, plus half of Blue Mountain and 15 percent of Mammoth. The company also owns and operates one of the world's largest heli-skiing outfits, Canadian Mountain Holidays in British Columbia, where it collects almost $2,000 a night from snow-crazed chief executives and other affluent guests. Finally, Intrawest operates a private vacation club, in which members can book stays at eight swanky resorts around North America.
There are a lot of attractive things about the ski business. For one, barriers to entry are huge—literally and figuratively. The target market is generally affluent and—once they get to the mountain—captive. That makes it easier to sell them food and rent them gear. Meanwhile, technological improvements have made it easier than ever to make graceful turns in all kinds of snow conditions, from corduroy to corn to crud.
Still, skiing is anything but a growth area. Participation has been more of less flat for the past decade.

And the business's supply chain—namely, nature—is incredibly fickle and inefficient. The winter of 2011-12 by some measures delivered the worst snowfall in at least two decades. Not surprisingly, Intrawest's skier visits plunged 14 percent.
Resort executives generally have a couple of tricks to survive those tough spells: drawing more off-season guests for golf and weddings, and selling real estate. That's what Vail Resorts has done. Nuptials are pretty recession-proof, but real estate is not—especially buildings of the vacation-home variety. In the last three years, Intrawest took $156 million in impairment charges on its real-estate assets, roughly 10 percent of its revenue for the period.
Put an anemic snow year and a terrible recession together and you get huge losses for a resort operator. Inrawest lost money in each of the past three years, $1.13 billion in all. To make matters worse, a recent audit found "deficiencies" in its financial reporting system.
At the end of the day, the ski business is kind of like skiing itself: In perfect conditions, it's glorious. But bluebird powder days are few and far between. Undeterred, Intrawest is casting itself as an epic investment opportunity. We'll see if anyone lines up.
Before it's here, it's on the Bloomberg Terminal.
LEARN MORE