In the Land of the Mamils: Where Men Are Men and Bikes Are a Semester at Yale
By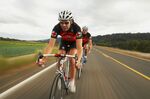 Every day, bankers check the league tables, a scoreboard that shows who won the biggest deals. Then they check their Strava app to see who's chewing up the pavement fastest on his $20,000 bike. That's recreation on Wall Street.
Strava means strive in Swedish. Loot learned this factoid on a recent weekend at Lea, a dark, classy cocktail bar tucked beneath New York's Helmsley building and just steps from Merrill Lynch, JPMorgan and UBS. The traders' conversation was going as expected (Dodd-Frank complaints, bonus expectations), and then, suddenly:
"You hittin' the Spoon this weekend?"
The Runcible Spoon is a quaint bakery in Nyack, New York, to which these men were planning to race that Sunday -- 55 miles there and back -- with 20 other guys just like them. Or a lot like them.
"It's a midlife crisis thing," jokes an HSBC credit trader, Rich, who evidently has 9 percent body fat. "We're mamils. Middle-Aged Men in Lycra." They clink bourbon glasses in reverence for the brotherhood.
The community of "mamils" isn't new. Bike makers and sports apparel companies have practically institutionalized it with marketing campaigns and products designed for A-types 40 to 60 years old. And judging by the rapid growth of high-end retailers like Specialized, Rapha and Giro, these guys are shelling out more than ever.
"We race pretty competitively, I'd say," Rich says. Who wins? "I do, obviously." He displays the hard evidence on Strava. "But then again, I do have a new, $10,000 bike," a Pinarello Dogma . I guess I look dumbfounded. "What?" he says. "A lot of these guys spend $20,000."
I ask for their route. Sunday morning, after a grueling ride up Manhattan's Riverside Drive, over the George Washington Bridge, past the Athlete Recovery Center and over four steep hills called, apocalyptically, the the Four Horseman of the Apocalypse, Loot arrives in the land of the mamils.
There are at least forty of them in this frilly bakery, waddling around in their cleats and comparing their gear, when I limp in at 10:45 a.m. But I'm not too late for a display of tenderness.
"If you can't keep up, we'll crush you," says John, a 53-year-old financial adviser for Merrill Lynch, who's sitting next to two of his kind. "We dropped, like, four guys this morning, right? Dropped 'em like freakin' flies." His companions chuckle with pride. Why shouldn't they? They're riding $50,000 of bike.
The outfits: matching $210 neon jerseys and $260 padded shorts from Rapha . Don't even think about turning up here on a Citi Bike in your Levi's. They'll drop you like a freakin' fly.
"Most of these guys get their gear at Strictly Bicycles down the road," says Mark Robinson, 50, who admitted to wearing $300 carbon cleats, before cruising off on his custom $15,000 Dogma. That's Strictly's No. 1 seller, made famous by Chris Froome, winner of the 2013 Tour de France.
Their bikes are beautiful. And to be fair, they're being used for pretty serious races. Spoon patrons say they're training for the 100-mile Gran Fondo race, among others.
"I get a lot of hedge fund guys in here, Wall Street types," says Strictly's owner, Nelson Gutierrez. "They're really stressed out. I think they come here to deal with it."
On another night, in another Wall Street watering hole called Anotheroom, a mamil named Eric, who trades fixed income for Citi, says there's more to it.
"It's a man the machine competitive mentality," he says. "We like to push ourselves. And it's not '80s Wall Street. We're not out buying Lamborghinis and paying for coke habits. We're buying $10,000 bikes."
Jennifer Parker is a multimedia editor for Bloomberg TV.