business
George Casey to Cornell MBAs: Get Out of Your Comfort Zone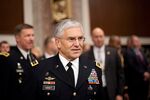 This article was adapted from a lecture General George Casey gave on Nov. 14 at the Samuel Curtis Johnson Graduate School of Management at Cornell University. Casey, a retired four-star general and chief of staff of the U.S. Army, served as commanding general of the Multi-National Force in Iraq from June 2004 to Feb. 8, 2007, when he relinquished his Iraq command to General David Petraeus. As chief of staff from April 2007 to 2011, General Casey led what is arguably the world's largest and most complex organization, with 1.1 million people and an annual budget of more than $200 million.
All modern organizations—profit or nonprofit—seek to provide strategic leadership programs to help their leaders build the skills to cope with today's business challenges, take advantage of emerging opportunities, and survive possible threats in the future. Leading today is a demanding, difficult task.
The military, like other large complex organizations, educates its senior leaders to ensure that they are effective, capable managers and leaders, and to provide them with the critical skills necessary to respond intelligently to rapidly evolving, ambiguous situations.
There are no magic bullets to ensure leadership success, and I believe almost anyone can lead. There are some innate talents and skills that people possess that allow them to lead effectively at the highest levels, but most people have the capability to be a leader and can always learn to be a better leader. Over the years, I've learned there are three important qualities of an effective leader: vision, courage, and character.
Vision is the most critical skill, because the primary function of a leader is to point the way. The question I always ask is, "What are we really trying to accomplish?" Articulating a clear vision in today's turbulent environment is hard work, and it's the work of the most senior person in the organization. It's what they get paid for.
Pointing the way ahead entails making judgments about the future. Since we are all human and cannot predict the future, this takes a significant amount of courage. Strategic leadership requires personal courage—stating your convictions even when you know they're not popular and acting in the face of uncertainty and risk.
Leaders with strong values build strong organizations, and those values form the basis of the leader's character. Character is most important in the leader. People trust leaders with strong character, and that trust is the glue that binds an organization together.
I've found that officers with broader experiences and interests were more comfortable leading in complex environments, so I encouraged leaders to get outside of the Army mainstream and into civilian graduate schools and other government agencies so they could get out of their comfort zone and learn to work with people who are outside the core group with which they normally associate.
I believe that this generation of veterans getting their education on the GI Bill will have a significant impact of the economic health of this country. As I travel around the country speaking at business schools, and I talk to student veterans, I always tell them, "Don't sell yourself short!" People leave the military and go into an academic setting, and they feel like there is so much they don't know. What I found is that veterans already have many of the leadership skills that employers are looking for, like the ability to solve complex problems, to work as a member of a team, and to understand the value of ethical behavior. Most importantly, they know how to lead in volatile and complex environments.
An MBA, or advanced degree, helps them get more comfortable with the theories behind the business skills so that they can better apply them. The more the environment changes, the more excellent managers must anticipate and adapt to stay ahead of that change.
Before it's here, it's on the Bloomberg Terminal.
LEARN MORE