Ex-JPMorgan Trader Resists Spain's Extradition in Whale Case
Charles Penty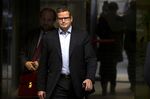 Javier Martin-Artajo, the former JPMorgan Chase & Co. banker accused of helping hide trading losses that eventually surpassed $6.2 billion, told a Spanish judge he opposes extradition to the U.S.
Martin-Artajo asked Judge Santiago Pedraz not to extradite him as the alleged events happened in the U.K. rather than the U.S. and because he has roots in Spain, according to a court official who briefed reporters today. Answering a summons to appear at the National Court in Madrid, the former trader arrived with two lawyers.
The Spanish citizen, who oversaw synthetic credit trading at JPMorgan's chief investment office in London, was indicted in the U.S. in September for engaging in a securities fraud to hide losses stemming from trades by Bruno Iksil, the Frenchman at the center of the case who became known as the London Whale. Martin-Artajo turned himself in to police in Madrid in August.
He waved at reporters after the hearing, which lasted a few minutes, the court official said. Martin-Artajo, who was released by police in August, left the building afterward.
Spain's Supreme Court today also upheld its rejection of an attempt by Martin-Artajo's lawyers to thwart U.S. extradition efforts, the tribunal said in an e-mailed copy of the ruling.
His lawyers had appealed against the decision by Spain's cabinet on Oct. 25 to allow the proceedings to go to court, claiming the country's legal system didn't allow for him to be handed over as a Spanish citizen and that extradition to the U.S. would cause "irreparable damage." The court had first rejected the appeal in a ruling published Oct. 31
Before it's here, it's on the Bloomberg Terminal.
LEARN MORE