Deloitte Consulting's Jim Moffatt on Disruption, Innovation, and Coaching T-Ball
Ira Sager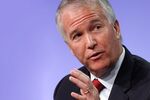 Jim Moffatt comes from a family of doctors—his grandfather, father, and sister. He considered joining the family business, and he had, as well, a momentary flirtation with baseball (he was a catcher in college). But a job with NCR in his junior year of college exposed him to the world of business. Later, at business school, he figured out his future calling, even though he says that when he went to business school, "it was the first time I realized what [management consulting] was."
By now, the 55-year-old chairman and chief executive of Deloitte Consulting knows all about consulting and business. A 26-year Deloitte veteran, he's seen disruption in his industry and in others up close. In this edited Q&A, Moffatt talks about the pace of change in consulting, what's on the mind of CEOs, and what he'd do if he weren't a consultant.
Clay Christensen recently co-authored an article in the Harvard Business Review suggesting that the management consulting industry is on the "cusp of disruption." Do you agree? Is the field changing?
Consulting firms have always been disrupted. What's different now is that the pace of change is accelerating. Change is generally good for companies that are willing to embrace the change. It's also good for consulting firms, because it creates complex issues and challenges. I look at some of the things that are evolving, and I see opportunities to partner in ways we couldn't before—crowdsourcing or through partnerships where there's deep expertise in a technology like 3D systems. Those are things that are more available today, at an accelerating pace.
It's an interesting time to be in the [management consulting] industry. You're going to see a shift, where we start to become participants and stakeholders in industry ecosystems, as opposed to just service providers. It creates lots of opportunities and complexity, for sure, but it definitely changes the game.
How does the game change?
If any one firm believes they're going to own all the intellectual capital on the planet, they're wrong.  A lot of talent out there has no desire to be part of a big firm. It doesn't mean they don't want to collaborate with you and that there aren't interesting partnerships you can explore.
I think these ecosystems open up a lot of opportunities and provide access to things for our clients, and for us, that you could never build. You have to be more than just an observer. You can't just have brilliant insights that end up in a PowerPoint up on a shelf. You really have be willing to say, 'I believe in this, and I'm going to commit to the outcome. And I'm going to do it with you.'
What are the disruptive forces companies—including consulting firms—face?
It depends on where you are. There's a number of them—Big Data, artificial intelligence. I forget the stats, but if you look at the projection for when a computer will actually be able to simulate the power of a brain, it's going to happen sooner rather than later.
If you're a manufacturer, you have to be looking at 3D systems and 3D printers as an option. What's surprising to me is consumer product companies looking at that and saying, 'Wow, there are whole new business models we can create, whole new customer experiences we can create using a 3D printer.'
In more knowledge-based areas, I think some of the crowdsourcing opportunities are quite interesting. They're the ones we're looking at to complement what we do.
How do you crowdsource consulting work?
We're just starting to explore it. We're looking at the analytics space, where one component of what you do requires a very specialized algorithm. Some firms out there have some pretty intriguing access to data scientists. Why not tap into a population of a couple hundred thousand data scientists? But that's not the whole project, right? You still have all the business transformation issues that you wrapped around it.
You formed Deloitte Digital about 18 months ago. How does it fit with your traditional consulting business?
It's going to be one of the highest-growth areas we have. We'd had a lot of different elements within our practice, but we hadn't put all those assets in one place. The combination of everything digital—social media, cyber, cloud—in one place starts to change it from being a pure technology play. I think this is a much broader play. It has deep insights around industries, but it also brings through strategy, technology and all the human capital aspects of it.
What's the on the mind of the CEOs you meet with?
Definitely growth. Across every industry, consistently, it's growth. The environment is still unstable, and it's moving around. How to grow in this environment? Growth has to come from different or less traditional areas, whether it be in the emerging markets, or touching customers in a different way, or with a different product. That's hard stuff to do.
There's so much interest in innovation these days—and so many different takes on the topic—how do you define innovation?
I don't really have one word. It's actually a combination of things. It's part ideation, and it's part creativity. It's part being bold; it's part taking risks. It's part business and process. It's not just about being brilliant; you really have to work at it. Think about Steve Jobs and how hard he worked, that striving for perfection. It's a culmination of things, a combination of skills and attributes more than it is a specific definition. There's a lot of buzz around [innovation]. If you want to invest in innovation, you've got to get your hands dirty. You really have to dig in. You have to challenge yourself and your organization around what the possibilities are here.
Is there another career you would have chosen if you didn't get into management consulting right out of business school?
My father was a physician, my grandfather was a physician, and my sister was a physician. I really thought a lot about that. But I also double majored in management science.
I actually got into business school right out of undergrad, but I started working for NCR my junior year. I stayed there for the next couple years. At that point, I was sure I wanted to go to business school rather than to medical school. To be honest, I didn't even know what consulting was at that point. I went to business school. and it was the first time I realized what it was. I had done a lot of project-based work at NCR. So it was a good grounding for what I did.
I probably would have loved to have been a baseball coach. I mean, I played baseball in college. I love coaching, actually. I probably will go back and do youth sports and youth coaching. There are a lot of similarities, too. I actually learned a lot coaching. You coach T-ball, and it forces you to be crisp and clear and keep things moving and make sure that you're inspiring the team.
Before it's here, it's on the Bloomberg Terminal.
LEARN MORE