China's Plenum Outlines Ambitious Reforms to Its One-Child Policy, Banking, and Legal System
by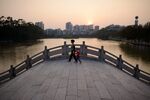 Some more clarity on the reforms decided at China's just-concluded Third Plenum, with the issuance Friday evening of a key document—the "decision on major issues concerning comprehensively deepening reforms," as reported by the Xinhua News Agency.
According to a flurry of short Xinhua articles citing the ambitious plenum document, the Communist Party's leadership has decided to further loosen its one-child policy, allow more private investment into banking, and start requiring state enterprises to return a larger share of dividends to the government.
China's restrictive hukou (household registration) policy is to end in smaller cities, and farmers will be given more rights to their land. Legal reforms, too, were announced. The successful implementation of the reforms is not guaranteed, and the changes are likely to face significant opposition.
As has been rumored in recent days, China will begin to allow couples to have two children if just one of the parents is an only child—previously, Beijing had required both parents to be only children. "The birth policy will be adjusted and improved step by step to promote 'long-term balanced development of the population in China,'" Xinhua reported.
China also pledged to move more quickly on banking reform with a much-anticipated move: allowing more private money into the still-cossetted state-owned banking system. "China will open up the banking sector wider, on condition of strengthened regulation, by allowing qualified private capital to set up small-and medium-sized banks," according to Xinhua.
China's powerful state-owned enterprises will also be asked to contribute more to state coffers. While government companies had been returning dividends ranging from zero to 15 percent, they will now be required to pay 30 percent by 2020. "The money will be used to improve people's livelihood," said the party's decision.
On the legal front, the decision pledged to end China's notorious "reeducation through labor" system, as well as reduce the number of crimes subject to the death penalty. "Lawyers will play an important role in protecting the legal rights and interests of citizens and corporations in line with the law," the document said.
Before it's here, it's on the Bloomberg Terminal.
LEARN MORE