business
China Expected to Be the Top Market for Industrial Robots by 2016
Christina Larson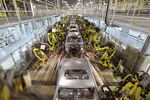 Being a Chinese factory boss is harder than it used to be. Rising labor costs, alongside an increasingly unfavorable exchange rate for China's renminbi and still slack demand from Europe, are pinching manufacturers in China's southern export hubs. In Zhejiang province, average assembly-line wages nearly tripled from 2005 to 2012, from $2,425 to $6,750 per year.
Hard times call for inventive measures. On Thursday, a source at the Zhejiang Economic and Information Commission told the state-run China Daily newspaper that the local government will pilot a novel solution: investing $82 billion over five years to help local factories partially automate production processes. And Zhejiang officials aren't alone in their thinking.
China is already the world's fastest-growing market for industrial robots, according to the International Federation of Robotics, an industry group based in Germany. Robot sales to mainland China have increased 25 percent, on average, every year from 2005 to 2012, reaching 23,000 robots last year. Only Japan purchases more robots than China annually. The IFR predicts China will be the top market by 2016.
Meanwhile, industrial robot sales to Korea and Germany, two significant markets, fell last year. And sales to India, which has yet to become a significant industrial player, remain small: just 1,508 robots last year. The automotive and electronics industries are the top purchasers of industrial robots worldwide, and both sectors are growing in China.
Before it's here, it's on the Bloomberg Terminal.
LEARN MORE