As Concussions Worry Parents, NFL Blitzes Into Happy Meals
by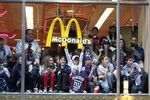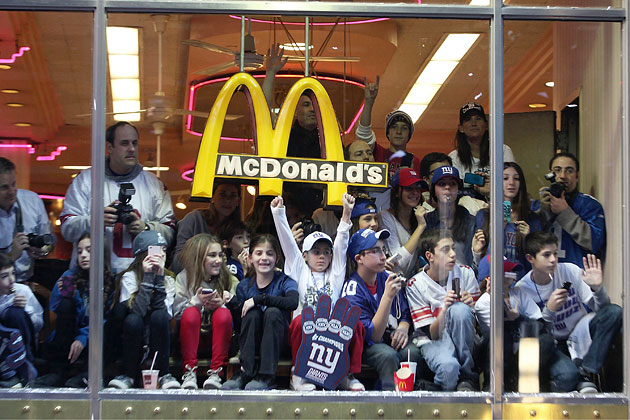 McDonald's has used Happy Meals and its massive dominance in advertising seen by children to promote all kinds of products, from Hello Kitty and Hot Wheels to its own books. Now the nation's biggest burger chain is has teamed up with the nation's most popular professional sport—that would be the National Football League—to offer 32 toy figures based on NFL Rush Zone, a TV show on Nickelodeon that's starting its third season soon.
"It really seemed like a natural fit," Peter O'Reilly, the NFL's vice president for fan strategy and marketing, told Ad Age about the McDonald's partnership. And here I was worrying about what's in a McRib.
What's most interesting (or galling) about this partnership is how straight up the NFL is about wanting to hook kids, especially 6 to 13 year olds, on a sport that's facing exactly the sorts of controversies most likely to prompt concern from anxious parents. The bullying scandal inside the Miami Dolphins locker room can't be easy for parents to look past, and of course the danger of concussions and brain injury for those playing tackle football is particularly worrisome. In one measure of the toll taken by those concerns, Pop Warner, the largest youth football organization, saw participation drop almost 10 percent from 2010 to 2012, according to a report this week by ESPN.
"For us, kids are a major priority, especially kids in that 6-13 window. That's why we launched Rush Zone in the first place. This now takes it to another level," said O'Reilly. He also pointed out that the NFL's research shows kids who become fans of NFL teams during their elementary school years are "locked in for life."
And as part of the NFL's effort to attract more female viewers, it's trying to appeal to young girls. Nearly 23 million kids aged 6-14 watched the NFL during the 2012 season—and 46 percent of them were girls.
McDonald's signed a multimillion-dollar, multiyear deal to become the NFL's official restaurant sponsor last fall. There's a Mighty Wings campaign featuring football players and a bunch of other promotions under way. But perhaps the real lure for the NFL was the Happy Meal and the impressionable audience it brings.
Before it's here, it's on the Bloomberg Terminal.
LEARN MORE