An Airline Battle for Seattle With Delta's Alaskan Frenemy
by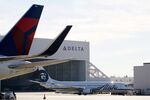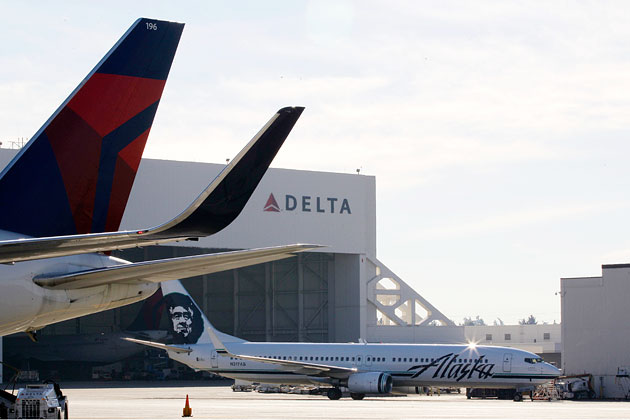 An old-fashioned airline battle for market share has broken out in Seattle. In one terminal is robustly profitable Delta, the world's second-largest airline, keen to make Seattle a West Coast hub for a range of new flights to Asia. Across the airport sits Alaska Airlines, the hometown favorite and Sea-Tac's dominant carrier by traffic and local customer loyalty.
They've been friendly partners for years, swapping passengers from each other's flights and honoring each other's frequent-flyer programs. But as Delta expands from Seattle into many of Alaska Air's core markets, things are growing a bit tense. "I think 'frenemies' is a great phrase," says Savanthi Syth, an analyst with Raymond James Financial.
For years Delta has struggled to forge a strategy for its Asia service, a network it acquired in its 2008 purchase of Northwest, and the airline has flights to Asia from its hubs in Detroit, Minneapolis, and New York. But Delta has nothing Asia-bound from the West Coast, routes that could allow it to bypass its hub at Tokyo's Narita Airport, much as United does with its flights from San Francisco. Overflying Tokyo is a timesaver for many business travelers, and airlines are likely to do that even more in the future.
That's why Delta considers Seattle an obvious place to launch a new international hub. It has already started flights to Amsterdam, Beijing, Paris, Shanghai, and Tokyo, with plans to begin flying next year from Seattle to London, Hong Kong, and Seoul.
To fill all those large international planes, Delta needs to feed traffic into Seattle—and that's where the recent skirmishing with Alaska has broken out. Delta this month announced new flights to such places as Anchorage, Los Angeles, Las Vegas, Portland, and San Diego, all in direct competition with Alaska. Both airlines have also started offering double frequent-flyer miles on competing routes, one of the hallmarks of the industry's market-share wars of the past.
Delta's regional friend-turned-rival has no small amount to lose. Alaska Air officials took the unusual step last week of reporting that 13 percent of the company's revenue is from airline partners, with Delta accounting for a little less than half. Alaska executives said they expect revenue from Delta will grow at a slower rate than sales with American, its second-largest airline partner.
Alaska and its corporate sibling, Horizon Air, have a 53 percent passenger share at the airport, while Delta is in third at 10 percent, according to summer data from the Bureau of Transportation Statistics. That kind of dominance makes Alaska a valuable partner for a larger legacy airline looking for connecting traffic in Seattle—but only if it's priced right, says Seth Kaplan, managing partner of Airline Weekly, an industry journal. The battle in Seattle suggests Delta does not like the financial arrangement with Alaska and has decided to create its own feed traffic, he says. "Sometimes the only thing worse than being just a pure competitor against Delta is to be a partner who is not dealing with them exactly on their terms," says Kaplan. Delta's expansion also allows it to control its passengers—and all the money they spend—for an entire itinerary without needing another airline.
The quiet hostilities at SeaTac haven't been bad for everyone involved. Passengers are already seeing lower fares on many of the routes, but it's not clear that Delta—a notoriously profit-minded operation—wants to engage in a true pricing war that damages both airlines. "Most executives don't want to play hardball these days, they want to price for profitability," says Jim Corridore, an airline analyst at Standard & Poors. He predicts Delta will "nip at the market" without causing a major erosion in profitability.
Delta is also wielding another weapon in the Seattle brawl: Canadian crooner Michael Buble. He was hired to attend a VIP reception for 100 Delta guests before his concert last week in Seattle. And even with increased competition, Delta and Alaska could still end up singing in harmony, too. "I think in the end, they are partners, they do have common enemies, United andSouthwest on the West Coast," Kaplan says. "So I think in the end there is probably enough reason for them to figure this thing out."
Before it's here, it's on the Bloomberg Terminal.
LEARN MORE