Why Under Armour Bought Its Way Into Fitness Apps
by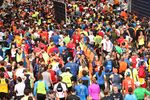 When a clothing company talks about technology, it usually focuses on the weave of its capri pants or something like Under Armour's ColdGear Infrared, which is, according to its website, a "soft, thermo-conductive coating inside your gear" designed to retain body heat. But sports-apparel brands want to be social networks nowadays, hence Under Armour's announcement on Thursday that it will pay $150 million to acquire MapMyFitness, which makes popular apps for runners and cyclists.
The deal seems primarily aimed at smoothing Under Armour's path into the world of fitness-tracking technology. The company already sells some wearable tech, such as a chest strap that measures heart rate, calories burned, and includes a proprietary metric it refers to as WILLpower. That information can be sent to an Under Armour watch or smartphone app. At the moment, though, these products don't even register on the company's balance sheet.
Digital competence is increasingly important in the world of sports apparel, with both Nike and Adidas recently introducing fitness-tracking devices. Under Armour has any number of ways it could try to compete—pushing its existing digital products, building its own activity-tracking bracelet, or weaving biometric sensors into the cloth it uses to make those high-tech pants—but MapMyFitness isn't going to make any of those tasks easier.
At this point, accelerometer-laden bracelets are a dime a dozen. By acquiring MapMyFitness, Under Armour is acknowledging that the real job may be offering people the best option to do something with the information they gather. This isn't a task that a clothing company will necessarily be any good at, and Nike's head start means the huge rival already has a platform with millions of users sharing information about their physical activity.
So Under Armour will now have control over a platform with 20 million runners and bikers discussing their routes. Let's see what it does with it.
Before it's here, it's on the Bloomberg Terminal.
LEARN MORE