Deutsche Telekom CEO René Obermann's Industry Outlook for 2014
Ziggo's incoming boss says the mobile Internet is everything
By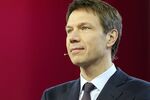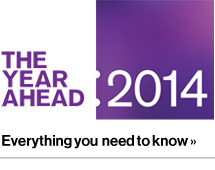 Where is the telecommunications sector headed? Is your move to Ziggo, a Dutch cable company, your answer?
With Ziggo, the size of the company is what I was looking for. I wanted a more operational role, which means you have to be in a company which is smaller. And for the first time in my life, I will live abroad. It's probably like New York to Staten Island—that's the distance between Germany and the Netherlands. But it's a new language, and the business culture there is also much less bureaucratic.
When you look at the [telecommunications] industry, on the infrastructure side, the biggest challenge is increased politicization. Because getting fast, high-performance access to the Internet has become a general public demand throughout Europe, there is increasing pressure on politicians to ensure that, and therefore increased pressure on the private sector to make it happen.
Have any of the political initiatives proven constructive?
For the first time, after 15 years of wrong regulation, Commissioner Neelie Kroes [European commissioner for digital agenda] is addressing the needs of the industry better, but even these changes, which are just now being introduced, are not ideal for big network investments. By pleasing the public with price interventions and regulation, which are short-term and consumer-focused (and which are, by the way, to the disadvantage of consumers long term), they've so far limited private investments big time. The political attempt to keep the market highly fragmented, to keep almost a ruinous competition in place, to intervene directly when consumers don't like certain price elements or parts of the proposition of the service providers—all of that is a politically understandable reflex, but it's dead wrong.
So if you were gatekeeper, what would you do?
First and foremost, allow for consolidation within countries. In some of the smaller European countries, for instance, we still have four mobile operators, even though the network built out there is extremely expensive. So regulators should keep their hands out of it, because there is huge and heavy competition already established. And they should allow for intramarket consolidation and cross-European consolidation. In Europe, we have hundreds of competitors, whereas in the U.S., you have only a few big providers.
What are some of the greatest opportunities for the industry now?
The biggest infrastructure opportunity is in providing an integrated, next-generation, high-speed network based on fiber and on vectoring technology, including LTE and Wi-Fi. At Deutsche Telekom, we call it "Always Best Connected." The second big opportunity is to consider yourself a platform for electronic distribution. It's why we're partnering with big and small Internet players.
And then, of course, the biggest opportunities for growth are the mobile Internet and "connected everything." Mobile Internet is more important than the entire Internet has been so far. And connected everything means machine-to-machine connectivity, many-to-many connectivity, intelligent networks. We're working in a number of subcategories there with a lot of effort in development, i.e., in the automotive sector or in telemedicine, in the health sector.
Any of these rise to the level of "disruptive"?
Well, in the positive sense, I think—no, let's start with the negative. I find it highly discomforting to learn every day about the alleged practices of secret services, which are damaging the trust of our customers. When I talk to corporate customers and to people every day, it's clear it's a growing concern.
My English is not the best, and I want to choose my words carefully. The atmosphere right now in Europe is not one of trust, and there's growing demand for security services and for companies to protect customers against illegitimate espionage. There's a feeling that among friends, partner nations, that we shouldn't have to worry about being spied upon. We have great relations with the U.S. We have many friends and business partners. I want these not to be damaged. But there is the potential for real disruption here. So we need to reestablish that trust.
And what will that take?
Well, for instance, not spying upon us.
What excites you most about the future, more generally?
My problem is I find too many things exciting. The cloudification of networks—really creating a network which is extremely simplified and much faster to maintain and has a completely different architecture. That's one thing which fascinates me. I love it, I really—that's a subject we're doing with great ambition at DT. It's a project called TeraStream, and we are already in some countries very far ahead.
I love the opportunities with regards to cash replacement. I find it fascinating to think about a world where there is no more cash being handed out and printed and all that, but instead your wireless device is the device you do all your transactions with. It's your personal hub to the digital world and also to the world of payment and transport and everything. So the mobile Internet is the technological base, but then the applications on top—there seem to me endless opportunities.
And I like to think about when we have a gigabit transmission speed, everywhere in each corner of the world, when we'll eventually communicate via holograms.
That would be disconcerting, wouldn't it?
We could sit opposite to each other, having the discussion we are having now, and sharing a virtual reality deserving of the name.
Is that really something we'll live to see?
I will still be in business when we have that, absolutely, because we are now experimenting with a wireless network that goes up to 150-megabit speeds. So even if they're not ubiquitous, at least we'll have these things available to us in a couple of years. Technology is evolving fast.
Edited and compressed for space.

Before it's here, it's on the Bloomberg Terminal.
LEARN MORE