Speaker Giant Harman Builds a Brick-and-Mortar Billboard
by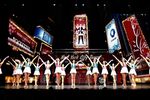 When the Rockettes start hoofing through their annual Radio City holiday show on Friday, with up to six performances a day, all of their audio will be routed through speakers and soundboards made by Harman International. But Manhattan's holiday crowds won't know that—and in the past they wouldn't have had a store nearby to browse for a piece of the Rockettes' sound system.
That's why Harman, a Connecticut-based company, is opening a massive store a few blocks away on Madison Avenue. When doors open on Nov. 22, the 8,500-square-foot flagship will be just the second brick-and-mortar location for Harman. The company cut the ribbon on a similar shop in Shanghai in late 2010, and now has additional stores in the works for Moscow and Dubai.
An in-person "wow factor" certainly helps in selling audio gear in a way that even a great website can't quite muster. Recreating the experience of a massive home-entertainment center can't really be done without sitting a customer in front of a massive home-entertainment center.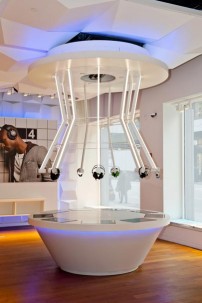 But Harman doesn't do much business directly with consumers, and it doesn't necessarily want to do more. Three-quarters of its sales come from carmakers like BMW and Toyota, which plant its speakers in door frames and meld its control-center screens into dashboards. Another chunk of revenue comes from places like Radio City—concert halls, movie theaters, and professional DJs. At the moment, only 13 percent of Harman sales come from headphones, speakers, and the myriad other consumer products in its lineup.
"We're always playing the backstage, so now we're actually going to take the center stage and let consumers know what Harman does," Chief Executive Officer Dinesh Paliwal said in an interview.
The shiny new Madison Avenue store, stuffed with gadgets and buzzing with subwoofers, is more of a billboard than a place to buy things. In a best-case scenario, it will take a few years for the store to turn a profit.
Harman is hoping about 1 percent of New York's 8 million or so annual tourists pop in or at least walk by. "If you do the quick marketing math," Paliwal said, "this will be a pretty good return."
Last year the company shelled out huge sums to book endorsements from Paul McCartney, Jennifer Lopez, and Maroon 5. What remains interesting, however, is the fact that Harman feels the need to advertise at all. One would think its marketing dollars would be better spent taking car executives on steakhouse outings, to luxury boxes at NBA arenas, or some other expense-account field trips where big wholesale deals are closed these days.
But consumers are now paying more attention to the components of their products—the parts, rather than the sum. BMW, Harman's biggest client, has asked the audio giant to step up its marketing efforts, according to Paliwal. Toyota is also plastering "Mark Levinson," a Harman hi-fi line, on the outside of its Lexus sedans in China.
"When consumers walk into a dealership, they should say 'Oh, wow, you have Harman,'" Paliwal said.
Meanwhile, the competition to sell tech gear to car companies isn't getting any cooler. Harman has at least 15 major competitors, including Lear and Visteon. At the moment, the best way to beat them may be to help sell cars—and a brick-and-mortar billboard can't hurt in that effort.
Before it's here, it's on the Bloomberg Terminal.
LEARN MORE