Popeyes Gives Americans the Chicken-and-Waffle Innovation We Craved
by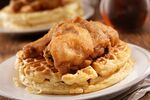 There's a certain ritual around eating traditional chicken and waffles. Cut off a little bite of chicken, do the same with a piece of waffle, put them both on the fork, and dip in syrup. If that sounds too fussy, you can forget the fork and go the fast-food route: Prepare the chicken in a waffle coating, deep fry it, and eat from a paper box with a side of honey maple dipping sauce.
That innovation, introduced by Popeyes in the summer as Chicken Waffle Tenders, have become the company's most successful limited-time offer in five years, said Cheryl Bachelder, chief executive officer of Popeyes owner AFC Enterprises, during an earnings call on Thursday.
Reviewers described the tenders as tasting like "a chicken cookie" and having "an almost addicting quality." Another reviewer was disappointed by the absence of a more fulsome waffle-ish taste.
You will have to take their words, for now, since the tenders are already off menus. "Like with all other successful LTOs [limited-time offers], we will assess where, when, and if it warrants placement in our future marketing plans," said Hector Munoz, vice president of marketing at Popeyes, in an e-mail.
Same-store sales at Popeyes rose 5.1 percent in the third quarter, with credit going in part to those Chicken Waffle Tenders, as well as a value promotion in September. Those results helped Popeyes outperform the average for the quick-service category for the eighth consecutive quarter, according to Bachelder.
In fast-food chicken specifically, Popeyes's market share now stands at 21.2 percent, a result of the chain growing faster than competitors for the past five and a half years. The chain expects growth to slow in the next quarter because of weakened consumer confidence. There are 1,745 Popeyes restaurants in the U.S. and 442 in other countries.
KFC, which has been dealing with falling sales in China all year, due to food-safety concerns, saw same-store sales in the U.S. fall 4 percent last quarter. KFC remains a much larger chain, however, with 4,590 restaurants in the U.S.
Before it's here, it's on the Bloomberg Terminal.
LEARN MORE