Patagonia Beer Works Just Great Outdoors
by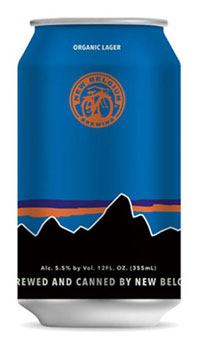 Now that Patagonia has a beer of its own, all it needs is a little fleece koozie. The outdoor apparel and gear retailer teamed up with America's third-largest craft beermaker, New Belgium Brewing, to launch California Route, a limited-edition beer celebrating the clothing company's 40th anniversary.
Does this officially make beer the drink of outdoorsmen and women? "Hasn't beer always been outdoorsy?!! Especially when in cans!" said Patagonia spokeswoman Jess Clayton in an e-mail. "The Patagonia family loves beer, especially New Belgium, so the collaboration made good sense," he adds. "This is just a promotional, one-time special collaboration. Patagonia is not getting into the beer-business in a permanent way."
For New Belgium, biking in particular is part of the brand's identity: The company legend depicts founder Jeff Lebesch becoming inspired to make his own Belgian beer after a bike tour in Europe, and the company logo is a bicycle.
The new Patagonia brew is described as "an organic California common-style beer" (it's a lager) that's "canned for adventure." Just don't turn up at your local Patagonia outlet looking for a six-pack. The 12-ounce cans will be sold at liquor stores in Seattle, Portland (Ore.), Chicago, Boulder (Colo.), Denver, and—in California—Santa Monica, San Francisco, Palo Alto, Cardiff-by-the-Sea, and Ventura.
Before it's here, it's on the Bloomberg Terminal.
LEARN MORE