Economic Malaise Tightens Its Grip on Europe's Core
by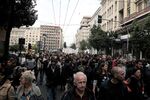 The euro zone economy is showing fresh signs of distress—and this time, the most-discouraging news is coming from its three biggest members.
The economies of France and Italy shrank by 0.1 percent during the third quarter, while German growth slowed to a meager 0.3 percent, the European Union statistics agency reported today. An EU report a day earlier showed German and French industrial production declined more than expected in September, while other recent data show slumping consumer spending in France and Italy.
Most surprising was the contraction in France, the region's No. 2 economy after Germany. France exited recession only three months ago. No. 3 Italy remains mired in a recession that began in mid-2011. France and Italy, which together account for nearly 40 percent of euro zone economic output, "have become the 'sick' men of Europe, mired in economic crises and politically unable to carry out meaningful structural reforms," says Nicholas Spiro, managing director of Spiro Sovereign Strategy in London.
Heavily taxed French companies aren't investing or hiring workers, and unemployment is at a 14-year high. Finance Minister Pierre Moscovici said today that the government had expected a "pause" in growth during the quarter, but that "the economic machine is re-starting." Standard & Poor's, which downgraded France's credit rating last week, warned that the government's policies are unlikely to restore growth.
The sluggish pace of growth in Germany, in line with analysts' predictions, stems from a slowdown in exports that was partly offset by a modest increase in domestic consumption. Chancellor Angela Merkel faces growing international pressure to juice up growth with greater government spending on infrastructure, research, and development. "Germany's performance is all right, but growth is by no means sparkling," Andreas Scheuerle, an economist at Dekabank in Frankfurt, tells Bloomberg News.
Some smaller European economies are beginning to show traction. Spain's GDP inched up 0.1 percent during the quarter, and Portugal's grew 0.2 percent. Quarterly figures for Ireland aren't available yet, but the EU has predicted full-year growth of 0.3 percent there. Only Greece remains stuck in a recession, which has wiped out one-quarter of its economic output since 2008.
Across the euro zone, quarterly growth averaged only 0.1 percent, while unemployment is at a record 12.2 percent and inflation is at a four-year low.
Before it's here, it's on the Bloomberg Terminal.
LEARN MORE