Argentina's Financial Tango
by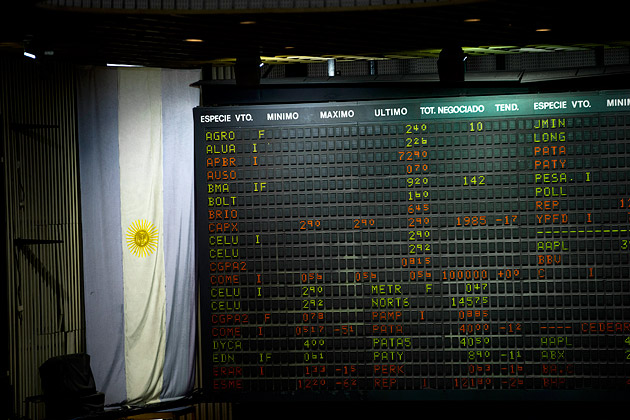 Sweeping generalizations: I don't like them any more than the next guy. But there's no point in denying the fact that no one gerrymanders a side of beef like the Argentines. Skirt steak; sweet breads; blood sausages; even gristle chitlins. Nothing goes to waste in the charcoal-fired frenzy that is a traditional asado.
That ravenousness has lately visited Argentina's currency, stock, and even luxury car markets. And Miami's skyline. The peso has been getting killed, what with inflation running at least 25 percent a year and the government of expropriation-happy Cristina Fernandez de Kirchner scrambling to keep U.S. dollars in Buenos Aires. A desperate black market for greenbacks, looked at as a store of value, has everyday Argentines and even tourists becoming arbitrageurs. How and where, everyone wonders, can you advantageously swap your pesos for bucks and not have to answer to financial regulators, who are increasingly demanding paperwork, explanations, and levies for transactions that entail foreign exchange. Last week's peso jig is this week's clampdown. It's a game of cat-and-mouse. Better yet: Call it the new tango. It just might be Fernandez's last dance.
Three years ago, Argentina, which is still slugging it out with creditors jilted by its mammoth 2001 debt default, started using reserves to pay its external obligations. The nation borrows at more than 11 percent, or nearly double the average for emerging markets, according to JPMorgan Chase & Co. This year, the South American economy has sustained a $10.6 billion hit to its reserves, which are at their lowest since 2007 and now lag Angola's and Lebanon's, according to Bloomberg data.
Denial has been an official policy, much to the consternation of the International Monetary Fund, which in February rebuked the Fernandez regime for juking inflation stats; her government has imposed fines of 500,000 pesos ($83,700) on researchers who say prices are rising faster than officially reported. Buenos Aires has also attempted to counterbalance importers' dollar hunger by forcing multinationals such as Porsche, Mitsubishi, and Subaru to themselves export Argentine foodstuffs.
"It's a very crazy country – what can I tell you?" says Silvina Moschini, a native Argentine who runs a marketing firm in Miami. "I honestly can't see how businesses still operate there."
Amid the histrionics, locals have been able to sell dollars in the black market, where a buck commands 9.80 pesos, and use the proceeds to buy luxury cars imported at the official exchange rate of 5.98. The upshot: a rather instant 39 percent discount on a Porsche 911 Carrera S, for example. Overall vehicle sales are up by a quarter in a year. So far in 2013, Land Rover, Alfa Romeo, BMW, and Porsche have enjoyed sales increases of 170 percent, 139 percent, 96 percent, and 76 percent, respectively, in Argentina. Surprise: This week, the country's money-laundering regulator decreed that citizens wanting to buy cars worth at least 350,000 pesos ($58,600) will now have to justify their purchase with the government.
"The next two years will be tough," says Walter Molano, chief economist at BCP Securities and author of In the Land of Silver: 200 Years of Argentine Political-Economic Development. "There are signs that the government will not relax its currency controls. On the contrary, it will probably add new measures to keep people from taking advantage of the overvalued currency by traveling or buying expensive imported cars."
This financial tango has had a rather unintended effect on Argentina's stock market, a backwater that's up 85 percent this year, in peso terms. Equities could be looked at as a better alternative to stagnant, rotting cash. In the past month, meanwhile, Argentine government bonds have rallied to to their highest level in a year.
All of which, however wishful, is more about what South America's No. 2 economy could become in 2015 when Kirchner—recently hospitalized and having just lost ideological and financial backer Hugo Chavez of Venezuela—leaves office.
Before it's here, it's on the Bloomberg Terminal.
LEARN MORE