pursuits
Why New York Is the Only Market Without Chipotle Catering
By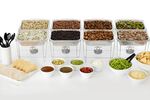 By now, Chipotle has expanded its catering service—basically a giant delivery of burrito and taco fixings in heated trays—to every market in the U.S. except one: New York City. The Big Apple will have to wait until next summer.
New York's a big market for Chipotle—the city has about 55 locations—so it's not that the chain's ignoring it. There are two big hurdles: For one, Chipotle's outlets in New York are smaller than in other cities, so preparing big orders (catering is for 20 to 200 people), especially during busy hours, will be difficult in the crowded kitchens. "We are working on making space for all of the catering supplies," says spokeswoman Danielle Winslow.
The other problem is delivery. Anyone who has driven in New York knows that parking is a nightmare. Chipotle is still looking for a delivery partner.
Chipotle introduced catering in Colorado in January and has expanded it to more than 200 locations. The peak season so far: graduation. At restaurants offering the service, catering sales were approaching 1 percent of total sales. "We believe catering is off to a promising start and showing great potential as we continue to roll this program out across the country and as more customers have an opportunity to try it out," said co-Chief Executive Officer Monty Moran during an earnings call last month.
For now, New Yorkers can order Burritos by the Box, a box of pre-assembled burritos (unlike full catering, you don't make your own) for parties of six or more. They'll still have to pick it up at the restaurants.
Before it's here, it's on the Bloomberg Terminal.
LEARN MORE