business
Starbucks's $2.7 Billion Decision to 'Control Its Own Destiny'
By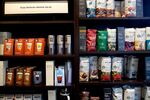 On a conference call Wednesday morning to discuss its $2.7 billion arbitration settlement with Kraft, Starbucks reassured investors that the cost of breaking ties with the distributor of its packaged coffee was the right move at the right time.
"We are literally in [the] very nascent stages of building a multibillion-dollar global consumer packaged business," Starbucks Chief Executive Howard Schultz said on the call, a day after an arbitrator issued the ruling in a dispute dating back to 2010. To do so, Schultz said, the company had no choice but to move away from its distribution deal with Kraft. "Having gained full operating control, we now have the flexibility and the freedom to control our own destiny and, most importantly, preserve and enhance the Starbucks Global business and brand around the world."
The coffee chain hasn't been shy about asserting greater control of the brand, says Brian Sozzi, chief executive of Belus Capital Advisors. Since 2011, Starbucks cafés began rolling out the company's own Evolution brand of juices and snacks, replacing Naked Juice beverages and KIND bars. (Starbucks had attempted, unsuccessfully, to acquire KIND.) The product switches, Sozzi says, set Starbucks up for faster growth. Today, he says, "managers can make decisions quicker."
How have sales been affected by the split with Kraft? In fiscal 2013, sales of Starbucks's consumer packaged goods (CPG) reached $1 billion, more than double 2010 sales. (Kraft says the segment also expanded considerably under its deal with Starbucks—from $50 million to $500 million). CPG is a rapidly growing part of the business. Along with sales to restaurants, hotels, and airlines, CPG is in a category Starbucks calls "Channel Development," which it hopes to expand into a multibillion-dollar business.
Schultz pointed out another advantage of the split: the effect on its single-serve coffee business, the fastest-growing segment in at-home coffee sales. As part of the deal with Kraft, Starbucks was restricted to producing single-serve coffee exclusively for Kraft's Tassimo system. Today the Seattle-based coffee giant is free to push its own single-serve Verismo and K-cups offerings.
Starbucks's relationship with Kraft dates back to 1998, when the latter distributed Starbucks and Seattle's Best bagged coffee to grocers. By August 2010, the deal wasn't working for Starbucks. It offered Kraft $750 million to terminate the agreement, saying Kraft had mismanaged the brand. But Kraft spurned the offer and sought an injunction, later rejected by a federal court, to prevent Starbucks from pulling out of the contract (a federal appeals court upheld the district court ruling). In March 2011, Starbucks walked away from the deal and quickly moved to bring the CPG distribution business in-house. Even before the legal proceedings played out, Kraft had launched an arbitration in November 2010, seeking payment for what they claimed the original deal with Starbucks stipulated, plus interest and a premium—nearly $3 billion—and attorneys fees.
Asserting greater control over its destiny doesn't mean Starbucks does everything on its own. Responding to a question on the call, the company said it continues to work with PepsiCo, through the North American Coffee Partnership, to manufacture and distribute ready-to-drink beverages. John Culver, Starbucks's group president for China and Asia Pacific, channel development, and emerging brands, offered a reassuring response: "Our Pepsi partnership is a very strong partnership here in North America."
Before it's here, it's on the Bloomberg Terminal.
LEARN MORE