Smaller Carriers and the Flawed Deal to Make an Airline Giant
By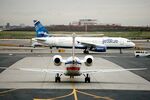 Federal antitrust officials have a tall order for low-cost airlines: Take a couple of gates at some of the biggest U.S. airports and launch new services to compete against the world's largest airline.
In agreeing to allow American and US Airways to complete their merger next month and avoid a risky trial, Justice Department lawyers extracted a concession of gate access at Boston, Chicago O'Hare, Dallas Love Field, Los Angeles, and Miami airports. The settlement announced Tuesday also calls for the post-merger American Airlines to divest access at Reagan National Airport near Washington, D.C., and New York's LaGuardia Airport, which will allow carriers like Southwest, JetBlue Airways, Spirit Airlines, and Virgin America to offer more flights.
"If this is the last [airline] deal, then this really is the last land grab, right?" says William Swelbar, a research engineer at MIT's International Center for Air Transportation and a Hawaiian Airlines director. "At the end of the day, the airline business is a real estate business, and they opened up a little bit of land here. But it would have been interesting to see more."
The government's hope is that low-cost airlines will begin eight to 10 new daily round-trip flights from airports like Los Angeles and O'Hare, both of which can be tricky for upstarts to enter with many gates controlled under long-term leases. Virgin America has long complained about its limited ability to serve O'Hare, where it has three daily flights to San Francisco and two to Los Angeles. The airline said Tuesday it may consider bidding for the gates in Chicago. JetBlue is similarly small there, with only five daily flights.
Yet with that kind of access, experts predict two things will happen: Fares will drop on some routes between the bigger cities, and smaller markets like Omaha, Colorado Springs, and Richmond, Va., will end up losing some service. "Low-cost carriers won't use property at these hub cities to create connecting itineraries," Wolfe Research analyst Hunter Keay says. The secondary cities are all "market-driven monopolies," says Robert McTamaney, a New York antitrust lawyer who cites Nashville as a city that can support nothing more than service to legacy airline hubs. "And that is true all over the country."
The other trouble with the government framework prescribed in the settlement is that low-cost carriers have, for the most part, had free rein to launch service as they please. Charlotte and Dallas-Fort Worth—the largest hubs for US Airways and American, respectively—are not singled out in the settlement as needing any type of special access for competitors. In Boston, for example, JetBlue has built its second-largest hub, and the airline has been making sizable investments in Fort Lauderdale, the South Florida airport-of-choice for discount players due to its lower costs.
Southwest controls more than 95 percent of the flights at Dallas's Love Field, which was cited for more access because next year airlines will be able to fly from there nationwide. But Love Field is almost certain to remain a Southwest stronghold—and a small player—compared with the huge American hub 25 miles west. And no airline has been able to make Los Angeles a truly dominant hub operation. American and United both have around 19 percent of the passenger share at LAX, with Southwest third at 16 percent, according to federal data.
And even with more gates at the seven airports in the settlement, low-cost airlines "are not going to have enough gates to offer a critical level of service," says George Hoffer, a professor of transportation economics at the University of Richmond. "They will, in essence, be kind of gnats." Yet aside from airport access, Swelbar says the U.S. has ample service from the large airports cited in the antitrust settlement. That poses another question, he says, one that's much more germane to an airline executive: "How much capacity can I rationally put into markets that are very well-served today?"
Before it's here, it's on the Bloomberg Terminal.
LEARN MORE