Pentagon Cuts Leave Largest Military Air Charter in Chapter 11—Again
By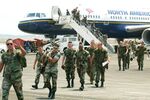 The largest provider of air charter service for the U.S. military has filed for bankruptcy protection a mere nine months after its last court-supervised restructuring. Global Aviation Holdings operates two charter brands: World Airways, which has flown U.S. soldiers since the Korean War in 1951, and North American Airlines.
Global blamed its latest financial difficulties on the U.S. Air Mobility Command, the Air Force unit that transports military personnel and supplies. The Command recently decided to cancel its 2014 contract with the company as the military adjusts to a tighter budget under the 2013 sequester. That will mean an expected revenue loss of $54 million "and will create significant over-capacity in the military charter cargo business," the suburban Atlanta-based company said in its Nov. 12 filing in Delaware. As a result, Global Aviation is being squeezed by high costs and pinched income: Large jets it leases suddenly have fewer business uses. Efforts to sell all or parts of the company failed over the summer, Global said.
The company said Defense Department reductions had curtailed its revenue to $354 million in the first three quarters of this year. Revenue was $486 million in the same period of 2012. The company expects to lay off 16 percent of its 1,040-person workforce as it tries to find new business. Sports charters may be one potential area—the company flew the Minnesota Vikings to London in September for their win over the Pittsburgh Steelers.
Global Aviation has had a troubled financial history, dating to its former parent, ATA Holdings, which filed its first Chapter 11 case in late 2004. Four years later, ATA filed its second bankruptcy and shut down its passenger airline operations, which were later acquired by Southwest Airlines. The charter business became a separate operation before ATA's second bankruptcy filing. Global filed for bankruptcy in February 2012 and emerged a year later. "We intend to use the reorganization process to help implement our plan to lower costs, stabilize our businesses, grow revenue and diversify our product lines," Chief Executive Officer John Graber said in a news release (pdf).
Global Aviation has 14 wide-body airplanes. In 2008, the company operated a 757 painted "Change We Can Believe In" for the Obama presidential campaign. It also operated a charter plane for George W. Bush in his 2000 presidential campaign and for Hillary Clinton in 2008.
Before it's here, it's on the Bloomberg Terminal.
LEARN MORE