Macy's Hits Its Sales Stride Just in Time for the Holidays
by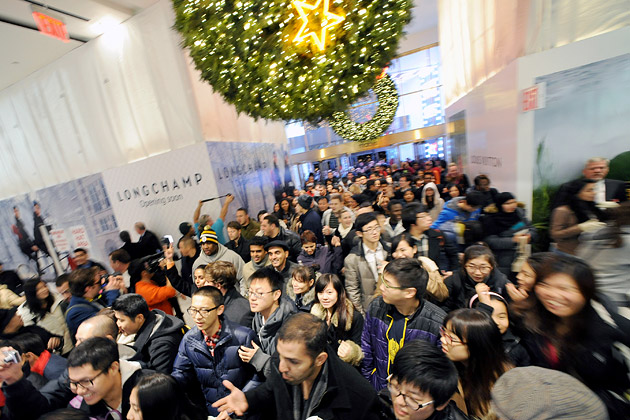 Macy's is going to be bonkers in the next few weeks. An airport security line or a One Direction concert may be more relaxing places to hang out, at least if the company's recent sales are any measure of the upcoming holiday season.
Despite what the retailer described as a "tepid economic climate," Macy's sales increased 3.3 percent, to $6.3 billion, last quarter. Sales at stores open at least one year did even better, with a 3.5 percent bump, and overall profit surged 22 percent, to $177 million, as the department-store giant stretched its margin while also discounting. Even Bloomingdale's, the company's line of upscale stores, performed handsomely.
The earnings report bested expectations on all fronts. "We saw improvement in the sales trend in every region of the country compared with the spring season," Macy's chief executive, Terry Lundgren, said in a release. "We are entering the fourth quarter with confidence."
The results were enough to make analysts confident as well. "It does sound like there is some hope there for the holiday season," Edward Jones analyst Brian Yarbrough told Bloomberg.
Macy's drove returns by spending more on marketing and more prominently advertising its sales. It has also been burnishing its customer service, a strategy driven—like most great corporate initiatives—with a trove of customer data and a really cheesy acronym. As Macy's mines its e-mail database for insights, the company encourages floor workers to practice "MAGIC" selling (Meet, Ask questions, Give options, Inspire to buy, and Celebrate the purchase). We can think of some adjectives to describe that other than "magical," but apparently it's working for Macy's. Heads up, Eddie Lampert.
Consumers, however, shouldn't expect any Macy's discounts on Wall Street. Shares immediately surged almost 10 percent this morning.
Before it's here, it's on the Bloomberg Terminal.
LEARN MORE