Have Keystone XL Opponents Found Their Best Weapon?
By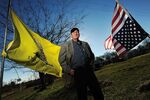 The slow-moving but rarely dull fight over the the Keystone XL, the proposed fourth and final leg of an extensive set of pipes carrying low-grade tar sands oil from Alberta, Canada, to the Gulf Coast of the U.S., has recently gained another subplot worthy of note, or even a movie for Gus Van Sant. Moreover, it presents an actions-speak-stronger-than-words "tell" of the Obama Administration's intentions toward the Keystone XL, which continues to await the president's approval.
This new subplot, brought to wider attention Wednesday by Keystone XL opponents such as Bold Nebraska and Credo, is a David and Goliath tale with a twist. Originally, it pit Texas landowner Michael Bishop against Calgary-based TransCanada, the pipeline builder and operator. Now it's shaping up as Bishop vs. the U.S. government, or even President Obama himself, whom Bishop describes as "the man behind the curtain," stone-walling required environmental reviews and operating without regard for the U.S. Constitution. (Because the Keystone XL crosses an international border, the U.S. State Department is charged with evaluating the line's safety and advisability, and Obama must OK it.)
A 65-year-old former Marine, chemist, and first-year medical student, Bishop owns 20 acres of land in Texas. The property, he says, has several creeks, and unlucky for him, it turned out to be on the route of the Keystone XL's southern leg—which runs from Cushing, Okla., to Port Arthur, Tex., and is almost done. In 2010, the Army Corps of Engineers exercised eminent domain—where land can be accessed for public use—to clear the way for TransCanada to lay pipe through Bishop's property. He was pissed, he says, but didn't know what to do about it, and so the pipe went in. The Army Corps, he claims, left a huge mess.
Over the following year, Bishop looked into the process by which the Army Corps had claimed control of his land and determined that the agency had not completed the necessary public hearings or risk assessments before issuing permits to TransCanada. "They hadn't followed the law," he says. "They hadn't even followed their own regulatory guidelines." Instead, he says, the Army Corps had helped a foreign company help itself to the private property of a law-abiding U.S. taxpayer. Insult to injury, "Obama flew to Cushing for a photo op, to claim credit for fast-tracking the project," he recalls. Incensed, Bishop eventually sued the government for what he alleges remain "illegal" permits. To save on legal fees, Bishop represented himself. "It's really very simple," he says of his case. "They didn't have the right to issue the permits."
Because the pipe has already been laid, Bishop heard from people who say he's doing too little, too late. He finds that take ridiculous. "[The pipe's] in there illegally! That's like arguing that if a burglar is already in your house, well, now they have a right to be there." Bishop wants the court to suspend the use of the pipeline until a risk assessment can be completed; he wants the Army Corps to restore his property to its pre-construction state; and he wants to get reimbursed for the cost of filing his suit.
For a few hours at least, Bishop appeared to be winning. On Nov. 6, U.S. Magistrate Judge Keith Giblin, in Lufkin, Tex., granted an Entry of Default in his case—essentially because no one from the Army Corps or U.S. Attorney General's office bothered to contest Bishop's allegations. After Giblin's ruling, however, the U.S. government finally did submit a motion to dismiss his suit. Bishop quickly filed a counterclaim, and it's up to Giblin now to decide if the matter should proceed.
What bearing might Bishop's case have on the Keystone XL? Is Obama nearer to approving Keystone, or is he listening to his pal Tom Steyer and turning against it? If only Intrade were still here, we might have a better idea.
The momentum appears to be tilting in favor of pipeline supporters. The U.S. government shutdown has delayed the Inspector General's report on alleged conflicts of interest for ERM (the British company that conducted the State Department's environmental impact study). That report's now expected in February. And desmogblog and the New York Times reported that former White House Communications Director Anita Dunn has joined the pro-Keystone/pro-TransCanada "ethical oil" campaign. (Dunn's husband, Robert Bauer, served as White House counsel during 2011.) And Obama's recently appointed head of the Environmental Protection Agency, Gina McCarthy, told the Boston Globe last week that she doesn't buy the argument that blocking the Keystone XL will keep Alberta's oil reserves in the ground (and thereby mitigate climate change). McCarthy's attitude was particularly alarming to environmentalists, because the EPA has been a harsh critic of the U.S. State Department's studies of the Keystone XL's safety and impact.
Against this backdrop, perhaps a guy like Bishop will end up being important. For the people of Montana, South Dakota, and Nebraska opposed to the Keystone XL, carbon emissions and climate change have always been a secondary issue. The primary one was their land—and, crucially, their water: the aquifers that sustain the great plains. Their greatest fear is a spill like the ones in Kalamazoo, Mich., or Mayflower, Ark. In an effort to avoid such a potential disaster, the opposition has, at a minimum, found a gamer.
"We're going to win, in the end," Bishop vows. "Our side is going to win, and the government is going to lose. Period."
How can he be sure?
"I've been in a lot of fights. Fights don't scare me," he says. "I've gotten knocked down, and I fight back."
Before it's here, it's on the Bloomberg Terminal.
LEARN MORE