Happy Meals With McNuggets Dominate Children's Advertising
By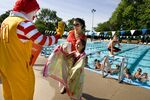 The average television-watching American child saw more than 1,000 ads for fast food last year, and there's a very good chance at least one of them was for a Happy Meal.
The Yale Rudd Center for Food Policy and Obesity analyzed how 18 large chains market to children and teens (PDF) and found that the McDonald's Happy Meal dominated fast-food TV commercials seen by children.
McDonald's spent $42 million just on Happy Meal ads in 2012, the researchers estimate. The average child in the U.S. between ages 2 and 11 saw 185 Chicken McNugget Happy Meal commercials on TV last year, according to Nielsen data used in the report. The next most popular items advertised to kids include Burger King's Kids Meal (23.4 views per year) and Dairy Queen's DQ Blizzard (22.9 views), although those products trailed the Happy Meal by a wide margin.
The Happy Meal was also the most commonly advertised fast-food item on kid-oriented websites in the survey, with 25.3 million total views—far more than Subway's Kids meal (3.6 million views) in a distant second place.
"Since January 2013, 100 percent of our national communications to children under the age of 12 have contained a nutrition or active lifestyle message," McDonald's said in an e-mailed statement. "All of McDonald's nationally advertised Happy Meals limit calories, saturated fat, sugar and sodium and offer at least 1½ servings of at least one recommended food group and three or more essential nutrients."
McDonald's revamped its Happy Meals last year, following widespread criticism, to include apple slices, smaller fries, and fewer calories. It also vowed to promote nutrition awareness. Here's one of the revamped and apparently ubiquitous Happy Meal ads:
"McDonald's has done more than other restaurants to reduce the size of fries and offer apples and healthier beverages. That's all very positive," but the nutritional quality of the meals is still not good, says Jennifer Harris, the lead author of the report. "They have more responsibility to do more because they are spending so much money to reach kids."
The Yale researchers found encouraging news in the slight drop in the total number of ads seen by kids, with the 6-to-11 demographic encountering an average of 3.2 ads per day, down slightly from 3.6 ads in 2009. The foods being promoted are gradually becoming healthier, too, according to the report. Still, the researchers conclude that even with healthier messages, "the pace of improvement is slow and unlikely to reduce young people's overconsumption of high calorie, nutritionally poor fast food."
Menu items advertised to children (ages 2 to 11)
| Restaurant Menu item | Average # of TV ads viewed per child per year |
| --- | --- |
| McDonald's Happy Meal (Chicken McNuggets) | 185 |
| Burger King BK Kids Meal (Chicken Nuggets) | 23.4 |
| Dairy Queen DQ Blizzard | 22.9 |
| KFC Biscuits | 18.3 |
| Burger King Real Fruit Smoothies | 14.6 |
| KFC Bucket of Chicken | 14.2 |
| Subway Fresh Fit Kids Meal (no specific sandwich) | 13.6 |
| KFC Original Recipe Chicken Bites | 13 |
| KFC Mashed Potatoes | 12.9 |
| Burger King French Fries | 12.8 |
Source: Yale Rudd Center for Food Policy and Obesity