Gary Gensler's Successor Has His Work Cut Out for Him
By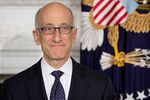 The White House will tap a Treasury Department official and former corporate lawyer to succeed Gary Gensler as chairman of the Commodity Futures Trading Commission. If confirmed, Timothy Massad will be charged with enforcing rules that Gensler has tried to enact over the past five years aimed at regulating over-the-counter derivatives. Considering his current job, Massad is well-qualified for that daunting task.
As assistant secretary for financial stability at the Treasury Deparment, Massad has direct oversight of the Troubled Asset Relief Program, or TARP, arguably one of the more thankless jobs in Washington. Despite turning a multibillion-dollar profit, TARP has been pilloried by many as nothing but a $700 billion giveaway to the same banks and financial institutions that blew up the economy in the first place. Massad was a partner at Cravath, Swaine & Moore in New York before coming to Treasury in late 2008 to help with the oversight of TARP.
Things won't get any easier at the CFTC. Assuming he's confirmed by the Senate, Massad will take over an agency that's spent the past five years trying to regulate the $600 trillion market for swaps. In doing so, Gensler has turned a traditionally sleepy government agency into the country's most aggressive financial regulator. Against the stiff resistance of Wall Street, and the objections of some of his fellow commissioners, Gensler has pushed through some 60 rules aimed at regulating a corner of the market that many blame for accelerating the financial crisis.
Gensler's hard-charging effort, while applauded by many pro-reformers, has also left the CFTC largely in disarray. Its staff is overworked, its budget is too small, and it lacks the basic technology to adequately enforce the rules it's worked so hard to put in place. For example, even though the CFTC is getting reams of data from the new exchanges where swaps are now trading, the agency has limited ability to analyze any of it.
With both Gensler and fellow Democratic commissioner Bart Chilton set to leave before the end of the year, there's a chance the CFTC will have just two sitting commissioners come January: Republican Scott O'Malia and Democrat Mark Wetjen. Republican Christopher Giancarlo has been nominated to fill the seat left vacant by Jill Sommers when she stepped down over the summer.
As hard as Gensler's job has been in pushing these rules through, his successor was always going to have the harder task of enforcing them. Those who know and have worked with Massad say he's up to it. "Tim is a guy who is not only made for tough challenges, but who embraces and relishes them," says Mark Patterson, who was Tim Geithner's chief of staff at the Treasury Department from 2009 to 2013. While praising Massad's smarts, Patterson thinks that in his new job, Massad's most valuable asset may be his low-key demeanor: "I think he'll be very effective at motivating the agency and forging consensus. He has that most coveted quality that is far too rare in Washington: People like him."
Massad is also known for his skills in the kitchen. "He is a legendary cook," says Patterson, who attended Massad's annual holiday party for Treasury staff. "When he was secretary, Geither wouldn't always make it to certain Treasury functions, but he always found a way to make it to Massad's party."
Before it's here, it's on the Bloomberg Terminal.
LEARN MORE