Franchise Industry: We're Already Cutting Hours Because of Obamacare
By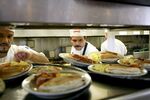 The latest front in the business lobby's fight against the Affordable Care Act: changing the definition of "full-time." The law counts workers who put in at least 30 hours a week as full-time; starting in 2015, employers with at least 50 of them will have to provide health insurance or pay a fine. Restaurants and retailers that rely heavily on part-time staff want the definition lifted to 40 hours, and some in Congress from both parties agree.
To advance the cause, the International Franchise Association and the U.S. Chamber of Commerce commissioned a survey (PDF) indicating that some employers have already cut hours and replaced full-time employees with part-timers to skirt the mandate. "We are already seeing the creation of a part-time economy by companies that would otherwise be leading economic growth," Steve Caldeira, president of the International Franchise Association, said during a conference call with reporters on Wednesday.
Public Opinion Strategies, known as a Republican polling firm, surveyed about 200 franchises and 200 independent businesses that employ from 40 to 500 workers—over the mandate's threshold or just below it. Of franchise businesses, 31 percent said they have reduced hours because of the health-care law, compared to 12 percent for non-franchise businesses. A smaller number of franchises said they cut headcount or replaced full-time workers with part-timers because of the law—even though the employer mandate was delayed over the summer until 2015.
The numbers contrast with a survey released two weeks ago by the National Federation of Independent Business finding that only 13 percent of 921 small companies plan to cut hours. The NFIB, like the IFA and the Chamber, thinks people working less than 40 hours shouldn't count as "full-time." But the group admitted that its numbers don't show Obamacare creating a part-time workforce. Many of those planning to cut hours were too small to be subject to the mandate, anyway. "If they cut or were cutting, it's almost assuredly due to the profitability rather than the ACA for those people," NFIB researcher William Dennis said. There's also no evidence in economic data that the health-care law is causing a shift in part-time work.
The economics of fast-food franchises make them particularly vulnerable to the mandate, the IFA argues. "These types of businesses already run on very thin margins," Caldeira says. "They've been dealing with extremely high commodity costs and, up until recently, extremely high energy costs."
Chain restaurants are already facing strikes over low pay and calls to raise workers' poverty-level wages. Some companies suggesting last year that they would cut hours or raise prices in response to Obamacare's mandates have faced angry backlash. A Denny's franchisee who floated the idea of adding a "5 percent Obamacare fee" backed down after the franchisor Denny's intervened. Darden Restaurants, the Orlando-based operator of more than 2,000 Red Lobsters, Olive Gardens, and other casual restaurants, reversed course on plans to replace full-time workers with part-timers.
Most U.S. businesses—96 percent—are too small to be subject to the mandate. And most bigger firms already offer some health coverage, though it may not be considered affordable under the law.
The IFA poll also found that 28 percent of respondents say they will drop coverage in 2015, when the employer mandate will be enforced. Why would these companies, which currently offer health care with no penalty, decide to drop it when the penalty kicks in? "Employers offer it because it's a way to attract and hold employees. Employees want the benefits," Public Opinion Strategies pollster Bill McInturff said in the call. But one of Obamacare's key reforms—marketplaces where insurers can't turn sick people away, and subsidies to help them buy coverage—makes dropping coverage more palatable to employers. "There's a system that's coming that means people will have guaranteed access to insurance," McInturff said.
Before it's here, it's on the Bloomberg Terminal.
LEARN MORE