Ecuadorian Court Cuts Chevron's Pollution Bill in Half
Paul M. Barrett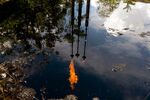 While Chevron fights in federal court in New York to prove that a huge oil-pollution verdict it incurred in Ecuador was a fraud, the top court in Ecuador now says maybe the liability tab isn't as immense as the company thought. Never a dull moment in the two-decade-old environmental brawl.
In February 2011, a trial court in the provincial oil town of Lago Agrio, Ecuador, imposed an $18 billion judgment against Chevron related to contamination of the rainforest in the 1970s and 1980s. With various add-ons, the bill grew to $19 billion. On Tuesday, the Ecuadorian Supreme Court upheld the liability finding, even as it cut Chevron's bill in half, to $9.5 billion. The appellate court said that the trial judge had improperly doubled the compensation the American oil company must pay as a form of punitive damages.
"The court has issued a sentence that confirms all the evidence gathered, the damage, and the payment Chevron must make," Juan Pablo Saenz, one of the lawyers for the thousands of Amazon residents seeking a cleanup and other remedies, told the French news agency AFP. Chevron, however, reiterated its vow never to pay a dime. "The Lago Agrio judgment is as illegitimate and unenforceable today as it was when it was issued three years ago," Chevron said in a written statement late last night. The San Ramon (Calif.)-based company has virtually no assets in Ecuador. The pollution case concerns the activities of Texaco, which ceased operations in Ecuador in 1990; Chevron acquired Texaco in 2001.
Chevron alleges that the original verdict stemmed from an elaborate extortionate plot featuring fabricated evidence, bribery, and coercion of Ecuadorian judges. Chevron is in the midst of a civil-racketeering trial in New York it initiated against Steven Donziger, the American plaintiffs' lawyer who engineered the 2011 Ecuadorian verdict. Donziger denies any wrongdoing. He and allied attorneys, meanwhile, are pressing legal actions in Canada, Argentina, and Brazil that seek to enforce the Ecuadorian verdict in those countries.
One question left open by the latest ruling is how Ecuadorian President Rafael Correa will respond. A left-leaning populist who has not been shy about exerting influence over the Ecuadorian judiciary, Correa has vociferously condemned Chevron and demanded full payment of the $19 billion verdict. It would not be out of character for Correa to pressure his Supreme Court to reinstate the punitive-damages component of the judgment against Chevron.
In New York, meanwhile, a federal judge will continue to hear testimony this week in the oil company's suit against Donziger.
Before it's here, it's on the Bloomberg Terminal.
LEARN MORE