A Hundred Bucks for a Bowl of Pasta? Don't Truffle With Me
by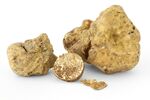 It's white truffle season, and New York restaurants such as Nomad, Babbo, A Voce, Il Gattopardo, Asellina and BLT Prime are shouting theirincoming shipments from the rooftops. Del Posto has a Festa di Tartufi night, with tickets going for $1,000.
What is it about these puck-size fungi, costlier than a fall coat , that makes chefs swoon and patrons blow hundreds of dollars?
Loot got chef Jesse Schenker on the phone. His West Village restaurant Recette is serving the stuff with spaghetti for a comparatively low $65 a plate.
"The main attraction to a white truffle is the aroma," he says. "Once you meet it for the first time, you really can't shake it. They're earthy and fragrant, and they do great things to simple stuff, whether it's pasta, risotto, scrambled eggs or potatoes."
Truffles are hard to find , making them a luxury. Plus, "you have the propaganda from the media," Schenker says. "It's the same thing with caviar or saffron."
Should you resist our insidious propaganda or dive into the feed trough?
"There's two schools of thought," Schenker says. "I know people who would say, 'How could I spend $100 on a bowl of pasta?' " Unsurprisingly, he does not attend that school. "I think everyone should experience truffles," he says. "Once you meet a truffle, it's hard to shy away from it."
Schenker allows that the truffle can be "an acquired taste" but says at least you'll know you "experienced it, and it makes good table talk. You've got to try it at least once -- it's like bungee jumping." He pauses. "It's not like bungee jumping. My wife just corrected me."
Maybe he wasn't too far off the mark. This year, he says, white truffles have been "reasonably priced" at around $2,300 a pound. Sounds like a terrifying plunge to us.

James Tarmy writes the Loot blog for Bloomberg.com's Good Life channel. He is also a columnist for Muse, the arts and leisure section of Bloomberg News.

Before it's here, it's on the Bloomberg Terminal.
LEARN MORE