Turning the iPad Into a Touchable Toy for Toddlers
by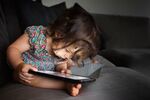 Steve Jobs always insisted that the iPad was a complete device meant to stand alone. "God gave us 10 styluses," he would say. "Let's not invent another." But with that dictum, the Apple co-founder perhaps unintentionally left out a group of iPad users for whom tactile exploration must go beyond the touchscreen: toddlers.
As more young children come into contact with digital devices, New York-based startup Tiggly has launched a toy that aims to bring hands-on play and learning to the iPad. "We saw that 2-year-olds were using iPads excessively," says Phyl Georgiou, the company's co-founder and a recent graduate of Harvard Business School. Meanwhile, he points out, "there's 70 years of academic history that says motor skills, spatial skills are very important to young childhood development."
Tiggly, which retails for $29.99 and is geared for ages 1½ to 4 years old, consists of cookie cutter-like plastic shapes—green circle, yellow triangle, blue star, and red square—made to easily fit a child's grasp, and outfitted with sensors that interact with the iPad screen. Along with the shapes, customers also get three apps built to encourage creativity, interaction, and vocabulary.
To create Tiggly, Georgiou teamed with Bart Clareman, a fellow HBS graduate, and Azadeh Jamalian, a doctoral candidate at Columbia University's Teachers College specializing in early childhood development. After gathering initial funds from friends and family, the group raised $500,000 from Kae Capital and a private investor.
One app allows kids to match Tiggly toys with corresponding shapes that pop up on the screen, thereby turning the digital version into animals and snowflakes. "We've made the shapes very basic," Georgiou says. "They aren't characters, so that allows the hero to be the screen." Using the iPad also lets Tiggly offer varying levels of sophistication for children as they advance. Additional apps are already under development, including one by Columbia Teachers College professor Herbert Ginsburg.
The aim is to enliven physical play for today's media-saturated toddlers, who may no longer find satisfaction with wooden blocks after watching their parents "play" with glowing screens on smartphones and tablets. Of course, kids still benefit from exploring old-school objects, too. "A 6-year-old or 3-year-old, they really struggle to figure out how to play with things, what's real and what's not real," says Georgiou. "The reason why a triangle is better played in the real world is if you're holding a triangle and you rotate it, you can see it's still a triangle," he explains. "On a screen, you can manipulate things, but you might think the screen is playing tricks on you."
Before going to market, the team tested Tiggly on more than 150 tiny early adopters. "They really took to it," Jamalian says. "The kids who were just learning to speak, some of their first words were 'triangle' and 'square.' It was really cute."
Before it's here, it's on the Bloomberg Terminal.
LEARN MORE