Stanford's Head of Career Services Jumps to Princeton
by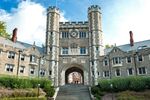 The career management director at Stanford's Graduate School of Business will begin a new job at Princeton University Dec. 1.
Princeton named Pulin Sanghvi its executive director of career services for the university, which has about 8,000 students, mostly undergraduates. He is expected to expand "engagement with students interested in the arts, nonprofit organizations, and the public sector," according to the school.
Sanghvi performed a similar role at Stanford's business school, as assistant dean and director of its Career Management Center. He's credited for increasing the diversity of employers that hire Stanford MBAs: In 2012, 80 percent of companies that hired the school's graduates took just one student—moving away from a model where a handful of corporate recruiters hired large quantities of students.
While at Stanford, Sanghvi developed a career exploration program that took an EHarmony-style approach to helping MBA students find the jobs they were most interested in. He also helped students steer their way through the financial crisis: Stanford MBAs headed to financial services dropped to 32 percent in 2012, from 36 percent in 2011. In the same period, grads entering the tech industry jumped to 24 percent from 13 percent. Under Sanghvi's tenure, 9 percent of Stanford's 2012 MBA graduates started a business during the summer between their two years in the program. According to the school's 2013 employment report, 32 percent of graduates took jobs in the tech industry, 26 percent went to finance, and 19 percent went to consulting.
Sanghvi's new role will allow Princeton's "Career Services to place greater attention on external outreach to new partners," Cynthia Cherrey, the university's vice president for campus life, said in a statement. An interview committee that included faculty, staff, students, and alumni assisted in appointing Sanghvi to the post. Stanford has not named a replacement.
Before it's here, it's on the Bloomberg Terminal.
LEARN MORE