business
Staffing the iPhone Supply Chain, With Help From Bogus Documents
By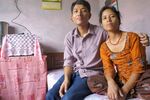 During the rollout of the iPhone 5 last year, the demand for speed was so great in Apple's supply chain that it sparked a recruiting frenzy across the Himalayan nation of Nepal. Four brokers had been formally retained to find 1,500 men and send them to work in a Flextronics International factory in Malaysia that turns out cameras for the new handset—and they were told to send the men as quickly as possible.
One of the four Nepalese brokers tapped for the job, Rajan Strestha, says the pressure for speed was such that he couldn't wait for his government to process foreign-worker permits for Flextronics recruits, a relatively small bureaucratic hurdle requiring a seven-day waiting period. So he cheated. Shrestha gave at least 46 men—and the Nepalese government—bogus contracts showing the men were on their way to work at a different Malaysian company for which the waiting-period had long since expired. It was called Winsheng Plastics Industries.
"The problem was that the demand was so fast that we couldn't do anything," Shrestha told me in an interview in Kathmandu, Nepal, when I showed him bogus Winsheng contracts and related documents I had obtained from some of his Flextronics recruits. Tall, heavyset and sporting a goatee, he explained it simply: "We had to fly the workers immediately."
On Sept. 19, 2012, one week after Apple unveiled the new phone at a San Francisco press event, the company's stock reached its all-time record close of 702.10 per share, following unprecedented demand for the new handsets. Earlier thatday, a gaggle of men stepped off a Nepal Airlines redeye flight in Kuala Lumpur. Each had a stack of documents in a brown folder given to him by Shrestha's agency. Its name, Sharp Human Resources, was printed on the cover. The first document beneath the cover was a roster from the government of Nepal showing that every man had a job working for Winsheng Plastics. The next document was a Winsheng contract.
The men say they were picked up at the airport by a Flextronics representative and taken to the hostel that would become their new home. Shrestha's ruse would have been apparent to anyone representing Flextronics who examined the paperwork. Renee Brotherton, a Flextronics spokeswoman, said the company's recruiting agencies "were responsible for filing necessary documents and following processes in accordance with local laws, and as required by the Flextronics supplier and our customer's code of conduct. Flextronics requires all suppliers to adhere to our comprehensive supplier code of conduct that includes treating our employees with the utmost dignity and respect."
Nepalese government records show Shrestha's agency got permits for at least 20 other men using Winsheng contracts during the recruiting drive for Flextronics. It's not clear where those men ended up working.
Before it's here, it's on the Bloomberg Terminal.
LEARN MORE