Paleo Dieters Who Want to Sleep in Caves Lift a Window-Insert Maker
By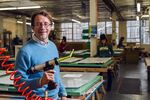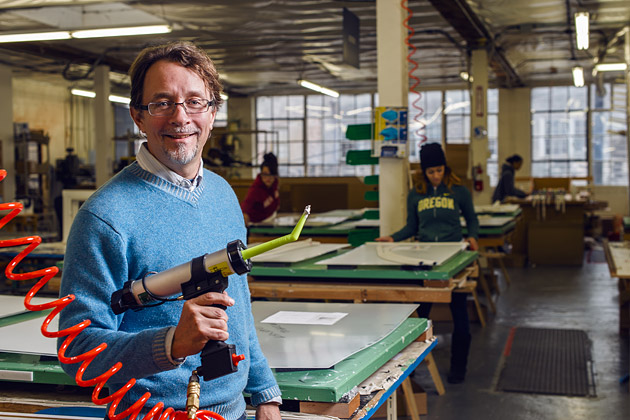 Serial entrepreneur Sam Pardue started Indow Windows because he was worried about global warming. He never thought people would use his product to simulate sleeping conditions from before the Bronze Age.
Founded in 2009, the 18-employee Portland, Ore., company's window inserts are a new twist on storm windows. Instead of bolting on the outside, they squeeze into the frame on the inside, held in place against existing windows by squishy silicone bumpers that line the edges. And instead of glass, they're made of clear acrylic that has been measured by laser to fit old, crooked sills. Putting them in and taking them out is meant to be as easy as pulling up a blind.
Fitting snugly, they conserve as much energy as double-paned glass replacement window—at one-fifth to one-half the cost, according to Pardue. "The more money we make, the more carbon we block," the 47-year-old says in an interview at his factory, where workers play a lot of Ping-Pong, Pardue's other obsession.
Indow has convinced a tiny fraction of the millions of homeowners across the country with drafty old windows to invest in its inserts, which start at $100. Pardue expects revenue to more than double, to $800,000 this year, from 2012, and investors like what they see. This year, Pardue pitched seven venture capitalists and angel groups, and all of them invested, including Vision Ridge Partners, Northwest Energy Angels, and the Keiretsu Forum. Their $1.3 million boosted Indow's total outside investment to $2.6 million, says Pardue.
Now, in an unexpected twist, Indow, is cashing in on a diet craze. A growing number of people are going "paleo" to avoid such health problems as obesity, heart disease, and diabetes, which they blame on eating cultivated grain. Instead they eat like paleolithic humans: grass-fed meat, vegetables, fruit, roots, even bugs. There could be 3 million practitioners in the U.S., says Mark Sisson, author of The Primal Blueprint, a guide to going paleo. Die-hard practitioners don't stop at food. They sleep in totally silent darkness—or try to—because humans are made to sleep in dark, quiet places such as caves, not in apartments located above neon signs and honking traffic.
In addition to holding in heat or air conditioning, Indow Windows keep out most street noise, a selling point in bustling cities, to paleo adherents or not. In September, Pardue started selling a new model in black (as in blackout), letting in zero light for $250 per normal-sized bedroom window. Pardue originally thought they'd be popular with nightshift workers and parents with little, napping kids.
At the suggestion of Indow employee Carrie Sturrock, who happened to know a paleo dieter, Pardue sent a set of the new panels to Nom Nom Paleo, a.k.a. Michelle Tam, a blogger and bodhisattva to the paleo world, with 92,000 Facebook "likes," who works nights as a hospital pharmacist in Palo Alto, Calif. Within days, Nom Nom spoke, or, rather, tweeted:
Traffic to the Indow Windows site in mid-October jumped threefold, to 1,500 unique visits, from 500 an average pre-paleo day. "Soooo much better than the comforters I have over the curtains in the bedroom!!" a Nom Nom acolyte wrote on Facebook. If Pardue is lucky, Paleos will be early adopters and evangelizers. The bigger prize: millions of others who don't yearn for caves but who live in noisy, neon-lit cities and want peaceful sleep and a lower energy bill.
Pardue remains chairman at his previous company, Lensbaby, a specialty lensmaker he launched in 2004 with his wedding photographer for $5,000 and expanded to a 35-employee enterprise that exports to China, Japan, and Germany from a plant in Portland. He resigned as its chief executive officer in 2010 to combat climate change—a nagging dream sparked in the early 1990s, when he got clued in to global warming during a stint as a research assistant at Los Alamos, the national laboratory in New Mexico, where Robert Oppenheimer helped invent the atomic bomb.
Business is the only solution that can make a significant dent in global warming, he says, because money has to be a prime motivation. Few governments will risk killing jobs to curb carbon emissions.
Pardue credits his own house, a 107-year-old Portland bungalow, for giving him the idea for Indow. He loved the old windows, which featured woodwork made from old-growth trees and rippling, ancient glass. He felt badly about all the heat they bled. New vinyl windows would be expensive and charmless, he thought.
So Pardue got a sheet of acrylic, cut it to fit a dining room window, and padded the edges so it would tuck into the frame. Voilà. Then it became more complicated: One day he found the insert on the floor: A strong wind had come through cracks around the old window, popping out his insert. It needed to perfectly match the frame, which was a trapezoid, not a square, because the house had settled—or had never been straight, to begin with.
Pardue says he was totally unprepared for the challenge, but he knew to ask for lots of advice because of the earlier startup. He wrote software to collect measurements from an off-the-shelf laser that window dealers with a little training could use, then upload the data to the Internet. The code uses the Pythagorean theorem and fuzzy logic to ensure that the numbers dealers send in are plausible dimensions, not lengths given by faulty use of the laser.
"It went from a simple product to something really complicated," Pardue says. That complexity creates a hurdle for competitors, as does the patent he received for using a compression tube—the silicone—to hold a pane in place.
These days, Pardue is using a Google data-mapping tool to find individuals making at least $100,000 and living in houses built before 1950–ideal customers for his non-blackout line of windows. "We're rifle shooting at ZIP codes," says Pardue, before heading into his factory to battle a fellow worker at Ping-Pong.
Before it's here, it's on the Bloomberg Terminal.
LEARN MORE