Mapping the Pay Gap for Women in Tech: How Three Cities Stack Up
by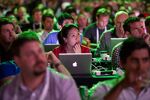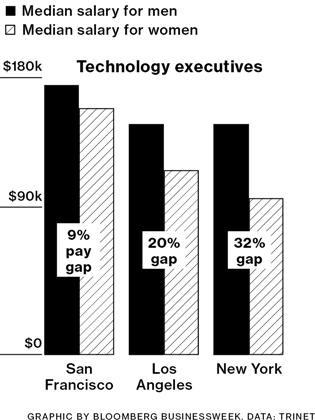 New data on salaries at small tech companies add some nuance to the well-documented story of gender disparities in the tech industry: The pay gap between executive-level men and women is smaller in San Francisco than in New York, while for programmers it's the other way around. That's according to data compiled by HR services provider TriNet.
The median salary for women in executive roles was 9 percent less than for men in the Bay Area, TriNet's data show. Compare that with New York, where female execs earn almost one-third less than men, and Los Angeles, where the gap is 20 percent.
Coders seeking equal pay may have a better chance in New York, where the trend is reversed. The median salary software engineers earn is 10 percent less for women than for men, compared with 20 percent in San Francisco and Los Angeles.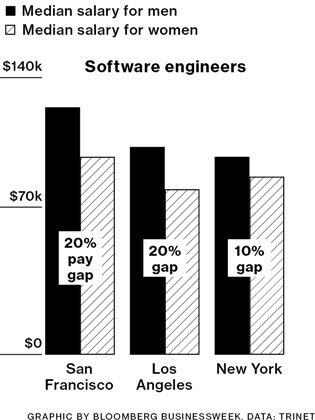 TriNet analyzed salary data from October for 5,600 workers at small technology companies in the Los Angeles, San Francisco, and New York regions for Bloomberg Businessweek. It picked those cities because they're where the company has the most robust data. In Los Angeles, the median pay gaps for both executives and programmers are about the same: Women earned 20 percent less than man.
Most of the companies in TriNet's analysis have fewer than 25 employees, though a handful are larger, with head counts in the hundreds, according to Jason Langhoff, the company's director of corporate development. TriNet counts top-level managers as "executives," including vice presidents and those with C-suite titles. The "software engineers" bucket includes programmers, developers, and even folks with such titles as "Web ninja," Langhoff says.
Women are the minority in TriNet's sample, making up no more than 8 percent to 13 percent, depending on the city and job. The analysis doesn't control for different levels of education, work experience, or other factors that affect compensation.
Worth noting: Executives and engineers of both genders earn more, in absolute dollar amounts, in San Francisco than their counterparts in other cities, according to TriNet's data. "There's a higher concentration of tech talent, and the demand is really high, and there's more experienced folks here," says Langhoff. TriNet is located in San Leandro, Calif., in the East Bay.
A recent report (PDF) from the U.S. Bureau of Labor Statistics finds that American women make about 81¢ for every dollar that men do. That figure has climbed from 62¢ in 1979. Nationwide, women in management positions earn 27 percent less than men, while those in "computer and mathematical occupations" earn 19 percent less, according to the BLS data.
Before it's here, it's on the Bloomberg Terminal.
LEARN MORE