Singapore Probes Five, Charges Another Over Web Hacking
Andrea Tan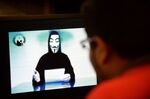 Singapore authorities are investigating five men suspected of hacking websites belonging to offices of Prime Minister Lee Hsien Loong and the president after charging another with defacing Lee's town council portal.
"Police has since established the identities of five suspects, Singaporean men aged between 17 and 45," the police said in a statement on its website today. The hacking of Lee's office portal and the president's Istana website appear to be unrelated, the police said.
A 35-year-old Singaporean, James Raj, was separately charged today with causing unauthorized modifications of contents on the Ang Mo Kio municipal website by posting an image of a Guy Fawkes mask, symbol of the international hacker group Anonymous. Another five men were charged with vandalism for spraying slogans linked to Anonymous, including on the pavement outside a shopping mall on Nov. 5.
The charges follow cyber attacks earlier this month on websites across Southeast Asia for which Anonymous claimed responsibility. A week after Lee's town council site was defaced allegedly by Raj, who signed off as The Messiah, the city state's Internet regulator said subpages on the Prime Minister's Office and the president's websites were compromised.
"I can't confirm if he's linked to Anonymous or if he's the Messiah at this stage," Raj's lawyer M. Ravi told reporters today.
Raj appeared in Singapore Subordinate Courts and didn't enter a plea to the charge under the city's computer misuse and cybersecurity laws. He faces a fine of as much as S$10,000 ($8,000) and a prison term of as much as three years, if convicted as a first-time offender.
Caning Penalty
Raj allegedly hacked into the website from an apartment in Kuala Lumpur, in neighboring Malaysia. He was also charged with illicit drug consumption and will be remanded for a psychiatric evaluation, according to prosecutors.
The five men, aged 21 to 26, who were charged with vandalism, also didn't enter pleas and were granted bail of S$15,000 each. If convicted, the five could be fined as much as S$2,000 and/or jailed for as long as three years. They could also be caned three to eight times.
Anonymous Philippines said on Nov. 4 that it infiltrated 115 government websites ahead of a planned demonstration outside congress in Quezon City as part of a global "Million Mask March," coinciding with Guy Fawkes Day in the U.K. The mask of Fawkes has become a symbol of the movement.
'Technical Problems'
In Singapore, a website owned by the city's biggest newspaper publisher, Singapore Press Holdings Ltd., was temporarily shut after being hacked on Nov. 1. A video uploaded on the YouTube website showed a person in a Guy Fawkes mask threatening to bring down Singapore's infrastructure to protest Internet regulations.
The Singapore Press website, which is run by the Straits Times newspaper, faced "technical problems" earlier today because of vendor software and hardware issues, the company said in an e-mailed statement.
Singapore government agencies were put on alert for possible attacks and boosted their cybersecurity after the threats.
Lee said in a Nov. 6 video posted on his People's Action Party Facebook page that he took the threats "very seriously."
"We will spare no effort to try and track down the culprits," Lee said. "If we can find him, we will bring him to justice and he will be dealt with severely. You may think you're anonymous but we will make that extra effort to find out who you are."
The criminal cases are Public Prosecutor v James Raj s/o Arokiasamy, DAC043752/2013. Public Prosecutor v Muhammad Qamarul Arifin Bin Sa'adon et al, DAC800760-800775/2013. Singapore Subordinate Courts.
Before it's here, it's on the Bloomberg Terminal.
LEARN MORE