European Leaders Revisit Scourge of Youth Unemployment
Patrick Donahue and Gregory Viscusi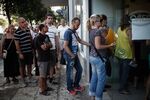 European leaders struggling to overcome the scourge of joblessness among the region's youth said today they'll boost funds to combat the issue even while relying on economic growth to generate employment.
French President Francois Hollande, who hosted the second youth-unemployment summit in Paris, said leaders will "amplify" existing funds while coordinating efforts to create jobs for the young. German Chancellor Angela Merkel said that any European Union plan must be underpinned by its 28 member states creating administrative and legal conditions for growth.
"Policy can't create jobs, rather jobs are created through the economy and the proper conditions," Merkel told reporters alongside Hollande after the summit, echoing a theme she used repeatedly during her summer election campaign.
Tackling a jobless rate of 24.1 percent among those under 25 will be part of a "step-by-step" approach, Merkel said.
After the European Central Bank surprised markets last week with an interest-rate cut to aid economic growth, leaders are seeking to show that they're taking action to address one of the region's sternest challenges. Italian Prime Minister Enrico Letta has described youth joblessness as the "true nightmare" of Italy, which this week may announce a ninth straight quarter of economic contraction.
In Letta's nation, the euro-region's third-biggest economy, youth unemployment rose to a record 40.4 percent in September, evidence of the harsh environment for new workforce entrants that dominates southern Europe.
'Long Haul'
Total unemployment across the 17-nation euro area is at 12.2 percent, the highest since the currency zone was created.
"We know that the future capability of this continent depends on what perspective we can give to the young," Hollande said. A comprehensive plan must include encouraging training, placing struggling youths into jobs and fostering economic activity over the next two years, he said.
Some 45 billion euros ($60 billion) could be mobilized to combat joblessness through 2015, including financing from a youth initiative, the European Commission and the European Investment Bank, according to figures outlined by French officials.
"It really is a long haul," Philip Shaw, chief economist at Investec in London, said in an interview yesterday in which he called youth unemployment "pervasive" in Europe. "The most one can hope for is a set of constructive talks."
In Greece, where the jobless rate of 27.6 percent is the highest in the euro area, European Union data show youth unemployment at 57.3 percent in July.
Quick Results
Greek Prime Minister Antonis Samaras said Nov. 4 that youth joblessness is one of the biggest problems facing southern Europe, and that participants in today's summit would try to "grab the bull by the horns." Later this week, he will attend an event in Greece backed by Nestle SA for an initiative to offer more than 20,000 jobs to European workers aged under 30.
While Spain escaped from recession in the third quarter, the jobless situation there is similarly desperate, with the level of young people out of work close to that of Greece at 56.5 percent in September, according to EU data.
"We need concrete results and we need them quickly," European Commission President Jose Manuel Barroso told reporters.
The first youth summit was held in July in Berlin. The next will be in Rome.
Before it's here, it's on the Bloomberg Terminal.
LEARN MORE