Chinese Liquor Maker Hit by a Crackdown Diversifies Into French Real Estate
Christina Larson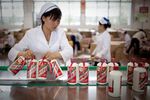 Kweichow Moutai is the leading producer of Chinese baijiu, a clear and powerful liquor distilled from fermented sorghum and typically bottled with from 35 percent and 53 percent alcohol by volume. The fact that the Guizhou-based company's iconic liquor has long been a staple at Chinese Communist Party banquets was, until recently, a guarantee of healthy sales.
President Xi Jinping's crackdown on corruption and obvious government excess, has slammed Moutai's bottom line and those of other companies dependent on China's culture of official feasting, patronage, and gift gifting. "The baijiu industry has suffered because high-end entertaining has been hit so hard," Rupert Hoogewerf, chairman of the Hurun Research Institute, which monitors the purchasing habits of China's rich, told Bloomberg Businessweek in October.
Tough times call for creative measures, so the liquor maker has announced plans to diversify its business strategy by investing €8.8 million ($11.8 million) in French real estate, as state-run newswire Xinhua reported on Tuesday. Currently, Moutai, which is listed on the Shanghai stock exchange and has a market capitalization of $150.4 billion, draws 97.29 percent of its revenue domestically, according to Xinhua.
The company has also laid the groundwork for future sales in the Eastern European countries of Poland, Hungary, Slovakia, Bulgaria, and the Czech Republic by arranging distribution rights in those markets. No word yet on whether plans exist to market the fiery liquor directly in Paris.
Before it's here, it's on the Bloomberg Terminal.
LEARN MORE