A Curious Kind of Tea Party-ish Win in Annapolis, Md.
By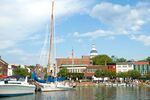 Mike Pantelides is 30 years old. He has no experience in public office. He is a Republican in a city with a two-to-one advantage for Democrats. During his campaign, according to the Annapolis Capital, he knocked on doors wearing black tennis shoes and a raincoat approximately two sizes too big, making him look "young enough to get carded at a college bar." And after several days of recounts, he is the new mayor of the capital of Maryland.
As you'd expect, Pantelides used the phrase "tax and spend" in debates. The city had raised property taxes and water fees since 2010, trying to mend its recession-era budget problems. But he also placed himself on the right side of a development project in the city's downtown. The right side was against the development. Pantelides won by 59 votes as a pro-environment, anti-development Republican.
A win in a town of 38,000 is not likely to provide a Chris Christie-style lesson for the Republican Party. But it points to what happens when a party—any party—gets comfortable. Annapolis, like Maryland, is run by a Democratic machine. Just two Republicans have won mayoral races in the city since 1981. When a party gets used to winning, it begins to rely on assumptions about what people really care about. The problem with these assumptions is that they're true—until, suddenly and unpredictably, they're not.
(I can't help but be compromised as I write about this. I grew up in Annapolis and lived there until four months ago. I've been friends since I was a kid with Josh Cohen, the Democrat who lost. I thought he was a good mayor, although I deeply resented it when, to cut costs, he mothballed the city's amazing street-side leaf-sucking machine, still the most compelling reason to pay taxes I can think of. In 2009, meanwhile, Mike Pantelides managed the campaign of the last Republican candidate, who is married to my mother-in-law's realtor. The Republican who won in 1981 dated my mom in high school. It's a small town.)
Annapolis has a waterfront, but it's not a port city. In the harbor, sail-driven skipjacks and wide-sterned crabbers gave way to private yachts in the 1970s and '80s, but Annapolis never experienced the industrial decline of Baltimore, to the north. There was never any industry to begin with. The city has always had money from state legislators in session at the capitol; from the Naval Academy and its reliable tourists; and from commuters to the recession-proof company town of Washington, an hour to the west. Economic development in Annapolis's city center has never been about replacing nothing with something. It has been about replacing something interesting with something better.
After a hurricane flooded a city-owned public market at the head of the harbor in 2003, the city spent 10 years making a complete hash of the site. It had been filled with a chaotic mix of locally-owned businesses selling raw oysters, sandwiches, and fried chicken. It was not a market-themed food court but an actual market, made up of decades of consumer habits and small businesses adapting to each other. After the hurricane, the city took advantage of the need to make extensive repairs and leased the site to a developer that had dangled the prospect of replacing it all with a Dean & Deluca.
That fell through, as did the plan B that replaced it. It's hard to replace decades of habit and successful business adaptations with a good plan. Vendors pulled out, and everybody began suing everybody else. This wasn't the mayor's fault, yet the consistent failure to fix the market marred Cohen's single term. He finally got it back open in August.
Despite all this, Annapolis first re-elected the Democrat who hashed it up in 2005 and then elected a Democrat in Cohen four years later. There's a difference between a catastrophe and a catastrophe voters care about. Which is how Cohen, focused on closing a fiscal gap, found himself on the wrong side of an additional development project.
During his term, Cohen did what responsible Democrats do: He raised taxes and fees, then trimmed the trash pick-up schedule and got rid of the amazing leaf-sucker to close a budget gap. Shortly before the election, he announced that the city no longer had to use short-term loans to meet its funding needs. But he also started a citizens' committee to redesign a section of the waterfront, and he hired a group of consultants to help the committee to come up with what he unfortunately decided to call a "master plan."
The streets around the waterfront flood too often. The site of a shuttered marine supply store needs to be rezoned. Parking remains a nightmare downtown, always and everywhere. These are real problems. Cohen's mistake was to attempt to solve them together, working with a developer and a massive site plan, in a city that had just watched a decade of failure with a large developer that had a big plan.
Last month, I talked to a political scientist in the U.K. who described the Tea Party, along with other, smaller, fringe parties in Europe, as "issue entrepreneurs." They seize on something that majority parties have not been in the habit of caring about: In the U.S., it's the deficit; in Europe, it's the pace of EU integration.
In Annapolis, it's hard to neatly describe the newly elected mayor as a Tea Party candidate, particularly since he's a member of the Sierra Club. But Mike Pantelides is an entrepreneur who seized on an issue that the Democratic Party—a comfortable, consistent power in the city—had been able to ignore. Unlike a post-industrial city, Annapolis doesn't need saving. It is reasonably suspicious of big ideas to fix everything at once. Pantelides opposed new taxes and old spending, but Republicans always do that. Pantelides opposed the City Dock Master Plan. And now he is the mayor.
This week, the Democratic majority on the city council publicly mulled legislation that would have the city manager report directly to the council, rather than the mayor. This is what parties with comfortable majorities do. They figure out ways to ignore things. Until suddenly, they no longer can.
Before it's here, it's on the Bloomberg Terminal.
LEARN MORE