The Buckyballs Guy Is Suing the Feds Over Free Speech
by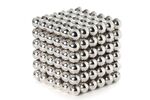 In summer 2012, the U.S. Consumer Product Safety Commission started a product recall proceeding for the small, spherical magnets sold as Buckyballs. The agency argued that they could pinch shut the intestinal walls of children who swallowed them, linking Buckyballs and other high-powered magnetic toys to 1,700 emergency room visits from 2009 to 2011. In February, the CPSC went further, invoking a little-used legal doctrine to try to force Craig Zucker, the former chief executive of the company that marketed Buckyballs, to pay an estimated $57 million in costs related to a recall.
Zucker is fighting back.
In a lawsuit he plans to file on Tuesday, Nov. 12, Zucker will ask the U.S. District Court of Maryland to block the CPSC from seeking damages against him personally. He notes that the agency hasn't sought damages from other toy magnet sellers, who folded their companies ahead of recall proceedings, and that similar products are still on the market. The complaint, prepared by Cause of Action, a legal group that supports limited government, alleges that the CPSC targeted Zucker for speaking out against the agency. It also says the CPSC violated Zucker's rights to free speech and due process when it retaliated against him, setting a "chilling" precedent for other corporate executives who publicly disagree with the federal government.
"What you have here at a minimum is a shocking example of regulatory overreach and abuse of statutory power," says Reed Rubinstein, a lawyer at Dinsmore & Shohl serving as counsel to Cause of Action. "At its most sinister, this is an example of government power being used to punish people who object to it."
The CPSC won't comment on Zucker's suit until the agency has a chance to review the complaint, says spokesman Scott Wolfson. More generally, "we want the public to have the full understanding that we stand behind the merits of our case," he says.  The agency believes "that case law justifies our approach." He adds that groups like the Consumer Federation of America and Kids in Danger have advocated for restricting the sale of high-powered magnets.
The early life of Maxfield & Oberton, the company Zucker founded to market Buckyballs, is a classic tale of entrepreneurship. In 2009, Zucker and co-founder Jake Bronstein each put up $1,000 to buy a shipment of rare earth magnets from a Chinese distributor, and started marketing them as Buckyballs. By July 2012, the company's magnets were on pace to bring in $25 million in annual sales.
That's when Zucker's dream turned into a nightmare, as the CPSC began its product recall proceedings. He mounted a publicity campaign making fun of the recall: "Every year 1.8 million people are rushed to the emergency room from falling out of bed," noted one company blog post. Are coconuts "tasty fruit or deadly sky ballistics?" asked another. He lampooned CPSC chair Inez Tenenbaum and challenged Wolfson to an arm-wrestling contest. He dissolved the company in December.
By then, Bronstein had moved on to run Flint and Tinder, which sells men's underwear and other apparel online. Zucker, who once ran a company that sold bottled tap water, was thinking about his next venture, but the CPSC wasn't done. In February, it invoked the Park doctrine, which allows federal agencies to hold corporate officers responsible for wrongs committed by their companies. Zucker protested, with such business groups as the National Association of Manufacturers and National Retail Federation arguing (PDF) that going after Zucker "flies in the face" of corporate structures that have traditionally protected executives from individual liability.
The doctrine, which derives from a 1975 Supreme Court ruling, has most commonly been used to by the U.S. Food and Drug Administration to prosecute pharmaceutical executives, says Allison Burroughs, a Boston-based partner at Nutter, McClennen & Fish who has written on the subject (PDF). "The Park doctrine in its current incantation is already controversial," says Burroughs, adding that to apply it to a civil case represents "a giant step." Zucker's complaint notes that the CPSC has never asked an executive to pay for a recall, and that no federal agency has used the strategy in a case in which the company targeted has not violated existing law.
In addition to his lawsuit, Zucker is filing a Freedom of Information Act in hopes of finding documents that explain why he was singled out, as well as another action seeking to compel the agency to correct past statements that he says are false. The ordeal hasn't stemmed his sense of humor—he's raised about $125,000 to pay for legal fees by selling Liberty Balls, which are too big to swallow, and smaller spheres that have been encased in Lucite. "I was expressing my right to free speech," says Zucker. "If entrepreneurs get persecuted when they speak out against government regulations, then we're in a lot of trouble."
Before it's here, it's on the Bloomberg Terminal.
LEARN MORE