Koreans Labor Under a Mountain of Debt
They face giant credit card bills and hefty mortgages
Christina Larson and Heesu Lee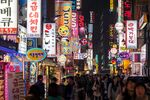 Over the past two decades, South Korea has morphed from a country of savers into a nation of spenders and borrowers. Jeong Young Sik, an economist at the Samsung Economic Research Institute in Seoul who tracks household debt, found that Koreans in 1990 saved on average 22.2 percent of their net household incomes; by 2012 that figure had dropped to 3.4 percent. The ratio of household debt to disposable income in 2012 was 160—higher than the ratio of 130 in the U.S. in 2007, before the housing bubble burst.
One 40-year-old housewife from Suwon, south of Seoul, who would only comment by e-mail if her name wasn't used, likened her credit card debt to a shackle on her leg. Her balances were so big that to pay them she says she turned to illegal private loan services. She eventually worked with a local branch of the Credit Counseling and Recovery Service to regain control of her finances.
Koreans have the most credit cards per capita in the world, according to statistics from the Bank of Korea, with five cards for every person. The debt boom is possible in part because credit is readily available. "It was very difficult for households to borrow money in the 1990s," says Jeong. "Financial institutions preferred to lend money to corporate interests." Tom Coyner of Soft Landing Consulting in Seoul says that "about a decade ago, when credit cards first became widely available, you had salesmen on the sidewalk with folding tables and credit card applications. People started to use them as responsibly as college freshmen." Credit quality of many cardholders was so poor that a major provider, LG Card, needed a bailout.
While Seoul is the home of Gangnam Style, named for the status-obsessed district parodied in Psy's hit song, the rise of conspicuous consumption doesn't fully explain Koreans' changed financial habits. Jeong, the economist, estimates that mortgage loans account for roughly two-thirds of household debt. Data collected by the McKinsey Global Institute show that the average home price in Korea is 7.7 times the average income; in the U.S., it's 3.5 times. About 40 percent of the country's population lives in greater Seoul, where high demand drives up housing costs.

Borrowing for education-related expenses—such as elite after-school tutors and college tuition—accounts for about a 10th of household debt, estimates Ronald Man, an HSBC economist who focuses on Korea. "Families are taking on debt to finance necessities rather than luxuries," he says.
Koreans' individual borrowing habits mirror those of the large corporations, Coyner says. "The whole Korean economy works on the principle of being overleveraged," he says. "From the outside, it looks like [a] giant Ponzi scheme, but it's manageable as long as the economy keeps plugging forward. If you're not overleveraged, there's a massive fear that someone else will invest more and you'll be left behind."
Wai Ho Leong, a regional economist at Barclays, praises President Park Geun Hye's National Happiness Fund, a $1.3 billion program launched in March to restructure debt for "very troubled borrowers," Wai says. It's the first time the government has explicitly set out to address the issue of household debt.
Before it's here, it's on the Bloomberg Terminal.
LEARN MORE