The Smoking Congresswoman and Her Asbestos Lawsuit
Paul M. Barrett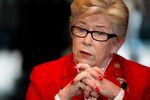 It's not that I'm against all lawsuits. It's just that the plaintiffs' lawyers—and the judges who enable them—take things too far. So even a politically moderate, law school-educated guy like me, someone who's perfectly prepared to root for a suit against a dishonest insurance company or an exploitative landlord, finds himself increasingly dismayed by the uses to which our civil justice system is put.
This morning let's consider the strange case of Representative Carolyn McCarthy of New York.
Sadly, McCarthy has lung cancer. The 69-year-old Democrat from Long Island took a leave from Congress in June to seek treatment at Memorial Sloan-Kettering Cancer Center in Manhattan. I wish her the best, of course; lung cancer is a tough one.
McCarthy has decided to cash in on her unfortunate plight by putting herself in the hands of Weitz & Luxenberg. The New York law firm specializes in suing former manufacturers of products containing asbestos, a carcinogenic insulation material. Weitz & Luxenberg has filed suit on McCarthy's behalf against more than 40 companies, alleging their actions contributed to her often-fatal disease. The suit, reported over the weekend by the New York Post, claims that McCarthy's exposure as a child to asbestos helped make her sick. She never worked for the defendant companies, which include Goodyear Tire & Rubber, the Con Edison utility, and Pfizer. Instead, the suit alleges she was exposed to trace amounts of asbestos because her father and brothers worked as boilermakers in U.S. Navy yards and power plants.
The papers filed by Weitz & Luxenberg omit a relevant detail: McCarthy has smoked for some 40 years. "McCarthy is such an avid smoker," according to the Post, "that she's known around Capitol Hill for taking [cigarette] breaks between votes."
Since smoking also causes lung cancer, McCarthy's decades-long habit will provide the defendants in her case a potentially powerful argument that they're not legally culpable. Her habit also raises the question of why, at this late date, when we've established that asbestos is dangerous and it's no longer included in any new products, the courts ought to transfer wealth from a bunch of companies to a well-insured, well-compensated federal employee. The good folks at Weitz & Luxenberg, needless to say, will take a healthy cut of any recovery McCarthy might obtain.
McCarthy's attorney, Daniel Blouin, provided this explanation to the Post:
"It has been conclusively proven that cigarette smoking and asbestos exposure act synergistically to cause lung cancer," Blouin said. "There is no doubt, scientifically, that in addition to exposure to asbestos dust, smoking played a role." He says the rate of lung cancer in smokers who also were exposed to asbestos has been shown to be 4,000 percent or more higher than the rate in smokers who were not exposed to asbestos.
Weitz & Luxenberg knows what it's doing. The plaintiffs' firm has made a fortune for its partners over the years suing former asbestos products manufacturers. While a history of smoking has diminished—and in some cases eliminated—other plaintiffs' ability to win asbestos suits, Weitz & Luxenberg is probably calculating that the defendants are more likely to settle rather than spend a lot of money skirmishing in court.
Before this case disappears into the fog of a confidential out-of-court deal, however, perhaps Representative McCarthy ought to reconsider. She could provide a valuable lesson in taking responsibility for one's actions, even in the face of a calamity like lung cancer. She could reinforce the message that smokers often suffer a demise that's painful, premature, and economically burdensome on the rest of society. And by withdrawing her suit, the congresswoman could free up judicial resources for potential plaintiffs who have stronger, more morally sound arguments that they've been victimized.
Before it's here, it's on the Bloomberg Terminal.
LEARN MORE