New Efforts to Get the FTC to Regulate Direct Sellers
By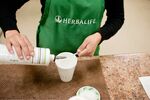 So-called multilevel marketers or direct sellers, which enlist individuals to sell products such as cosmetics and weight-loss supplements to their friends and acquaintances, have long drawn criticism from consumer advocates, who liken the businesses to illegal pyramid schemes. Last winter, after failing to persuade the Federal Trade Commission to regulate the $31.6 billion industry, critics got a boost: Hedge fund manager Bill Ackman accused Herbalife of being a pyramid scheme and bet against the company by shorting 20 million shares of its stock. Herbalife has vigorously denied his allegations. Ackman may make another presentation about the company later this month, according to CNBC.
Now advocates critical of the multilevel marketing (MLM) industry are trying to persuade the FTC to take a closer look at it again. Late last month, critics submitted a petition asking the agency to investigate the industry and determine whether it should be regulated. The petition asks the agency to require MLM companies to give prospective distributors data such as earnings claims and attrition rates and prohibit compensation plans that promote recruitment of new distributors over selling products and services. Frank Dorman, an FTC spokesperson, would not comment on the petition except to say, "The agency carefully considers every request it receives."
Joseph Mariano, president and chief executive of the Direct Selling Association—the trade group that represents the industry—denounces the petition and its 38 signatories. "Frankly, I've been dealing with this same crew for the last 15 years, and they're pushing a bunch of self-serving nonsense. These are just a bunch of naysayers who are engaged in this activity for their own self-interest," he says.
The petition's primary goal is to protect would-be distributors, which the industry calls independent business owners, and momentum is building in signatories' favor, says Douglas M. Brooks, a semiretired Concord (Mass.) franchise attorney who signed it. During his law career, Brooks says he brought 10 class actions against MLMs alleging that they defrauded distributors. "We're an unincorporated, unfunded, and unorganized group that has been at this for a long time, but now victims are finding each other over the Internet, and opposition to this industry is starting to snowball," he says.
Ackman is not behind the petition, though his factsaboutherbalife.com website has included it, says Brooks. He notes that roughly 1,000 people submitted comments and/or added their names to an addendum filed with the petition.
During 2013, hundreds of individuals as well as such groups as the National Consumers League, the Hispanic Federation, and the League of United Latin American Citizens called on the FTC to investigate the MLM industry in general or Herbalife specifically, prompted by member complaints and Ackman's accusations. Federal, state, and local lawmakers have joined in as well. "As I have learned more about this issue from my constituents and from outside groups, I believe it is the Federal Trade Commission's responsibility to examine these allegations," Representative Linda Sanchez (D-Calif.) wrote in a June letter addressed to FTC chairwoman Edith Ramirez.
One of the individuals who lent support to the recent FTC petition is fraud investigator Tracy Coenen, 41, of Milwaukee. In 2006 she started the blog Pink Truth, which criticizes Mary Kay, one of the oldest MLM companies in the U.S. "I am lending my support and name to the petition effort because I believe what the organizers are doing is important," Coenen writes in an e-mail.
Industry representative Mariano says his organization meets regularly with lawmakers and the FTC to discuss the industry's self-regulation standards and the contributions that MLMs make to the U.S. and the international economy. "I'm confident that the FTC, as well as other law enforcement agencies, understand the contributions that direct selling makes. We create a better life for all Americans, and the FTC has always recognized that," he says. Industry critics are "trying to turn around a positive thing for people and translate it into something bad."
Before it's here, it's on the Bloomberg Terminal.
LEARN MORE