Germans Go Grinch While Europe's Weakest Spend Big on Christmas
by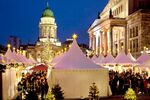 With almost 28 percent unemployment and a lingering recession that's wiped out one-fourth of their country's economic output, it makes sense that Greek consumers plan to trim their Christmas spending by 12.8 percent this year. What's more surprising is that the average Greek budget for holiday gifts, food, and drink is €451 ($608)—more than the €399 average in Germany, the country that has borne much of the cost of a Greek bailout.
Residents of Ireland, another bailed-out economy, plan to outspend the Germans more than two to one this Christmas, with an average €894 budget. In Spain, where unemployment is at 26 percent, consumers expect to spend an average €567. In recession-hobbled Italy, meanwhile, the figure is €477.
The figures, taken from a survey of 17,000 consumers by Deloitte, finds that even the reduced holiday budgets in many weaker economies are still more extravagant than those of Germans.
Differences between countries' spending habits are "linked to the culture of the countries," says Stéphane Rimbeuf, who heads Deloitte's consumer business practice in Paris. Majority-Catholic and Orthodox countries, he says, "have a stronger tradition of gift-giving" than predominantly Protestant countries in Northern Europe.
The survey found that, overall, consumers across the region plan to increase their holiday spending less than 1 percent this year, with sizable increases in Germany and much of Northern and Eastern Europe offset by decreases in France, Greece, Ireland, Italy, and Portugal.
Still, among 18 countries surveyed, only four—the Netherlands, Poland, Portugal, and Ukraine—had lower Christmas-spending averages than Germany. The findings reinforce Germany's reputation for pinching pennies at home while flooding the world with its exports.
Rimbeuf said researchers considered the possibility that in troubled economies, people's holiday budgets might include cash given to needy friends and family. "We looked into it, and the answer is no," he says. "People save all year long" in order to splash out during the holidays on gifts, food, and drink.
So what are they buying? Books are the most popular gift for adults in most countries, the survey found, though Spaniards prefer to give clothing and shoes, while Eastern Europeans favor cosmetics and perfume. Video games are the most popular gift for teenagers, while Lego-type construction toys are the top choice for kids under 12.
Overall, though, most Europeans spend a lot less than Americans over the holidays. A separate Deloitte study released last month found that U.S. consumers on average planned to spend $1,154, up 12 percent since 2012.
Before it's here, it's on the Bloomberg Terminal.
LEARN MORE