Dog Days of Summers Cost Harvard $345 Million
by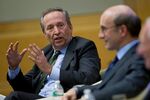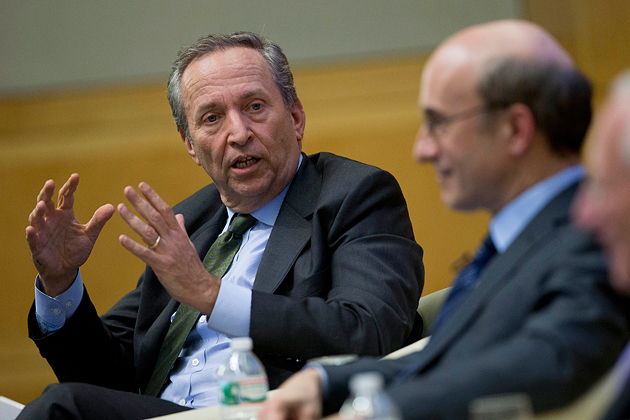 Nov. 15, 3pm: Updates to add a response from the Treasurer of Harvard and the Senior Fellow of the Harvard Corporation.
The Larry Summers administration is still costing Harvard University. The school lost $345 million this fiscal year getting out of interest rate swaps it agreed to before the financial crisis, when Summers, then the university president, made bets on exotic debt derivatives.
The swaps losses were an increase from $134.6 million in 2012, and now add up to more than $1.25 billion since 2008, Bloomberg News reported. Harvard detailed the figures in its annual financial report (PDF), which showed its endowment, the nation's largest, returning 11.3 percent to reach $32.7 billion. That's a big improvement from 2012, when Harvard posted the worst financial performance in the Ivy League, losing 0.5 percent.
By comparison, the Standard & Poor's 500-stock index gained 17.9 percent in the year ended June 30, when the Ivies mark their fiscal calendars.
Under the tenure of Summers (no relation to the author of this post), Harvard wagered that interest rates would rise as it funded the construction of an expanded campus in Allston, Mass. In December 2004, when the benchmark overnight interest rate was 2.25 percent, Harvard locked in rates on $2.3 billion of debt tied to Allston—which proved disastrous when the Federal Reserve cut rates to zero amid the financial crisis. Summers resigned in 2006, after remarks on women in science triggered a revolt by unhappy faculty and students. The swaps he approved cost the school nearly $500 million in fiscal 2009.
Harvard launched a $6.5 billion fundraising campaign in September, which would be the largest in U.S. history if successful. It's already off to a $2.8 billion start.
Earlier this year, Summers was President Obama's first choice to succeed Ben Bernanke as Fed chairman, but withdrew his name from consideration after key Senate Democrats made it clear they would fight his nomination. In addition to his poor fiscal legacy at Harvard, Summers was tainted by his support for deregulating the financial industry during his time as Treasury secretary under President Clinton.
"Any possible confirmation process for me would be acrimonious and would not serve the interests of the Federal Reserve, the administration, or ultimately, the interests of the nation's ongoing recovery," Summers wrote in a letter to Obama. The nod went instead to Fed Vice Chairman Janet Yellen, who attended Brown and Yale.
After this post appeared, we received the following e-mail from Harvard:
To the editor:
We write in response to the Nov. 11 story posted by Nick Summers, which perpetuates a mischaracterization of the evolution and disposition of interest rate exchange agreements that Harvard University entered into when it was preparing to finance a major expansion across the Charles River in Allston.
Blaming the losses on President Summers may simplify the story-writing process, but it creates an inaccurate account of the financing plan.
In 2004 and 2005, interest rates were at what were then historic lows, and the University was contemplating a major multibillion dollar campus expansion. In that context, locking in financing costs to create some budgetary certainty had apparent advantages. The financing plan using the swaps was developed by the University's financial team, and reviewed and approved by the Debt Asset Management Committee, on which President Summers did not serve. They were then approved by the Harvard Corporation, on which he did serve.
President Summers stepped down as president in July of 2006. At that time – and until the rapid and largely unforeseen meltdown that occurred in the markets in 2008 — these swaps were carried as plus or minus break even investments for the University. While they could have been liquidated with our counterparties at various points, they did not pose a problem until the meltdown in financial markets culminated with the collapse of short-term interest rates and swap rates in November of 2008. President Summers had been gone from Harvard's presidency for more than two years, and so had no role in the institution's financial matters when those arrangements were unwound.
Signed,
Robert Reischauer, senior fellow, and James Rothenberg, Treasurer
Before it's here, it's on the Bloomberg Terminal.
LEARN MORE