Bo Xilai Political Party Is Formed in China: How Long Will It Last?
by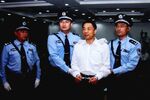 A supporter of imprisoned princeling and former Politburo member Bo Xilai has founded a political party aimed at pressuring the ruling Communist Party to follow China's constitution.
"I set up this party because while this society has laws, it is not ruled according to the law, and that is very apparent in the Bo Xilai case," Wang Zheng, an associate professor of international trade at the Beijing Institute of Economics and Management, told Bloomberg News in a telephone interview Sunday. "Our goal is to correct the ruling party's violations of the constitution. We are not trying to stop one-party rule," she said.
Wang announced the founding of the party, called Zhi Xian, or "Supreme Authority of the Constitution," on Nov. 6, naming Bo, now serving a life sentence in a Beijing prison, as "chairman for life." She invited Bo to be chairman through a letter to his lawyer. Although she has not received a response, "I accept it as silent approval," she said.
Wang's challenge to China's ruling elite came just three days before the opening of the third plenum of the Communist Party's 18th Central Committee on Nov. 9 in Beijing. At the session, several hundred of China's top party members are discussing possibly sweeping economic reforms, although almost certainly no political ones. Opening up room for real opposition parties is still taboo in China.
Wang declined to say how many people have joined her new party but said membership would be announced at its first congress, which could happen in six months time.
Whether Zhi Xian will last that long is an open question. Although the party is not expressly forbidden, China has a history of quickly suppressing new parties. Dissident Xu Wenli, for example, was sentenced to 13 years in prison 15 years ago for helping set up an opposition party.
China has eight small non-Communist parties that are supposed to provide advice to the ruling Communist Party but are not independent and are largely toothless. All of them were set up before the founding of the People's Republic of China in 1949.
Before his fall from grace, Bo, the party secretary of Chongqing, became known for his promotion of populist-oriented policies aimed at bettering conditions for China's poor and reversing economic inequalities. He also oversaw a crackdown on what he termed mafia crime and pushed a campaign of nostalgia for the Mao era that encouraged the singing of "red songs."
"As Chairman Mao said as he was building the nation, the goal of our building a socialist society is to make sure that everyone has a job to do and food to eat, that everybody is wealthy together," Bo said on the sidelines of the National People's Congress on March 9, 2012. He made that comment just days before he was purged.
"What Bo did in Chongqing was to carry out the constitution," Wang told Bloomberg News. "What Bo did for the people was for real."
Before it's here, it's on the Bloomberg Terminal.
LEARN MORE