The Skyscraper Hater Behind the Year's Best Skyscraper
by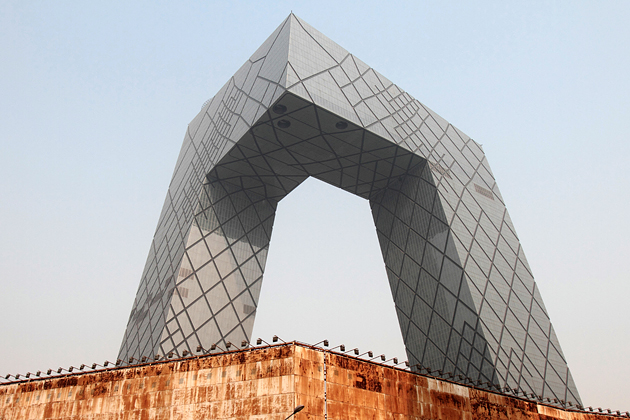 The Council on Tall Buildings and Urban Habitat chose the best skyscraper of 2012 last night: Beijing's CCTV building, the headquarters of the Chinese Central Television designed by Rem Koolhaas and his Office for Metropolitan Architecture.
It is one of the more unusual designs ever to have been built, on any scale, with two 44-story towers linked by a 13-story connecting bridge that takes a 90-degree turn. While the locals have likened it to a big pair of boxer shorts and a woman on her knees, it strikes this writer as a tower that started out ready to soar, thought better of it, took a turn, and plunged back into the ground.
The CCTV building is the product of an architect who not many years ago pronounced his interest in destroying the entire notion of the skyscraper, protesting the normally vertical and incrementally higher designs of his colleagues. "When I published my last book, Content, in 2003, one chapter was called 'Kill the Skyscraper,'" said Koolhaas in a statement from the Council on Tall Buildings. "Basically it was an expression of disappointment at the way the skyscraper typology was used and applied. I didn't think there was a lot of creative life left in skyscrapers. Therefore, I tried to launch a campaign against the skyscraper in its more uninspired form."
He certainly succeeded. The CCTV building was completed in 2012, though it apparently takes a while to get around to judging these things. It seems at once a withering comment on every other skyscraper and something of a musing on the twisted nature of its main tenant, a state-run news arm known more for the distortion of facts than the delivery of them. It's a miraculous building, not least because it was actually built.
Before it's here, it's on the Bloomberg Terminal.
LEARN MORE