Mortgage Insurance CEO Meets Fate of Long-Distance Boyfriends Everywhere
by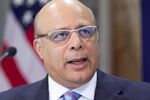 Sanford A. Ibrahim may have thought he sounded upbeat. "I'm pleased with Radian's improved financial performance this year," the chief executive of Radian Group said into the phone this morning, on a conference call announcing the mortgage insurer's quarterly earnings. "We continue to write a high volume of new mortgage insurance business in an extremely attractive market."
In a situation familiar to anyone who's ever dated long-distance, however, the party on the other end of the line heard things a little differently. The Wall Street analysts and journalists on the call looked past Ibrahim's cheerful news about the housing market to focus on the real health of the company. As the call went on and more information emerged, the story was told in flashes on the Bloomberg News terminal:
 
RADIAN CEO IBRAHIM SEES SMALLER ORIGINATION MARKET NEXT YEAR
 
RADIAN'S IBRAHIM SAYS INCREASED COMPETITION IN MI [mortgage insurance] MARKET
 
Shares of the company fell as much as 6.8 percent during the call. By midmorning, they were down more than 9 percent. By the afternoon, Ibrahim was back on the phone, doing damage control. This resulted in another Bloomberg terminal flash, this one fairly priceless, at 3:23 p.m.:
 
IBRAHIM SAYS HE DIDN'T MEAN TO BE DOWNER ON CONFERENCE CALL
 
"All we wanted to do was be realistic and tell the market that the environment in the housing market has changed," Ibrahim told Bloomberg's Zachary Tracer. "It was intended to be more a realistic expectation-setting, rather than a downer."
Radian announced a loss of $12.7 million for the quarter, disappointing investors who had thought that they and the company were ready to take things to the next level of profitability. Ibrahim said in the interview that he just needs some time.
"Nothing in today's call was supposed to say we're not going to get there," he said in the interview. "We're still comfortable that we'll get there."
Before it's here, it's on the Bloomberg Terminal.
LEARN MORE