Investors Aren't Scared by S&P's France Downgrade. The French Should Be
by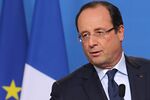 Since January 2012, bond markets have repeatedly shrugged off downgrades of France's sovereign debt rating. They did it again today, after Standard & Poor's cut France's rating another notch.
The subdued reaction shows that bond investors, quite reasonably, don't see much risk of a default by Europe's second-largest economy. "France has a deep and liquid and relatively safe bond market," says Nicholas Spiro, managing director of Spiro Sovereign Strategy in London.
Still, S&P's explanation of the ratings cut makes scary reading for French workers, businesspeople, and anyone else with an interest in the country's real economy.
In cutting France from AA+ to AA, the ratings agency said the policies of President François Hollande's government were "unlikely to substantially raise France's medium-term growth prospects." S&P said it predicts "close-to-zero" economic growth this year, with an average of just over 1 percent during 2014 and 2015. And it said the government's ability to stimulate growth was "constrained" because it had raised taxes while displaying an "inability" to cut spending and enact structural reforms.
The takeaway: Hollande has not only failed to get the economy back on track, but has made things worse by piling on billions in new taxes—and now he has very little maneuvering room to fix the situation.
Finance Minister Pierre Moscovici called S&P's criticisms "inaccurate," saying that the government had made a "massive" effort to restore economic health.
It's true that Hollande has enacted some pension and labor reforms since taking office in May 2012. Yet the reform effort has sputtered out in recent months, and taxpayers are up in arms over billions in new taxes.
"I'm very worried about the next six months," says economist Fabrice Montagné of Barclays Bank in Paris. Municipal elections and European Parliament elections are coming up during the first half of 2014, and with Hollande's Socialists lagging badly in polls, he'll have a strong disincentive to enact major spending cuts or painful structural reforms, Montagné says.
In the meantime, a stifling tax burden—with government revenue totaling more than 53 percent of the economy—is likely to remain in place. French exporters continue to lose market share to European competitors. And unemployment, now at 11.1 percent, is likely to remain high.
France, Spiro says, has become "a woefully uncompetitive economy, and it's going from bad to worse."
Before it's here, it's on the Bloomberg Terminal.
LEARN MORE