Hollywood Hunger Games: Lionsgate Needs to Replace Its Blockbuster
by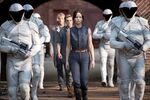 Jennifer Lawrence and her archery skills are arriving just in time for Lionsgate Entertainment. Despite a decent showing by the space thriller Ender's Game, the Hollywood studio has struggled in recent months.
The company barely squeezed out a profit last quarter, according to an update issued this morning. Of course, that will all change when Hunger Games: Catching Fire opens on Nov. 22. "Our fiscal year will be backloaded," Lionsgate Chief Executive Jon Feltheimer told analysts, in a massive understatement. Based on the smashing success of the seminal film, box-office analysts expect the second installment to sell $168 million in opening-weekend tickets and go on to round up roughly $400 million before cycling down to DVD and video on-demand.
It's difficult to overstate how much this film means to Lionsgate. Here's a look at how Hunger Games expectations dwarf the studio's other big releases this year:

Lionsgate has a bona fide blockbuster franchise on its hands—a "global phenomenon," according to Feltheimer. The passionate interest has even prompted investors to approach the studio "about potential theme park opportunities, which gives you a sense of the cultural impact of this franchise." The problem with blockbusters, however, is that studio executives generally can't sit back and and enjoy the ride. Investors will want another hit—and hits are tricky to find and tough to make, even for companies with far more resources than Lionsgate (see: Disney's The Lone Ranger and  Sony's White House Down).
Today's financial update is good example of a blockbuster hangover. Lionsgate's quarterly sales fell 29 percent, in part because the year-earlier period was pumped up by DVD and streaming sales of the original Hunger Games.
Until it bought Summit Entertainment early last year, Lionsgate did a respectable job churning out solid performers that didn't require a ton of expensive special effects or massive marketing budgets. That genre included a string of Tyler Perry movies as well as The Haunting in Connecticut and The Lincoln Lawyer—relatively modest films that handily beat expectations. Lionsgate is still talking about pairing top actors with lean production budgets, and it is doing a better job of spreading risk to production partners. But the company is also hunting for a new Hunger Games, and prospects in the meanwhile don't look great.
This morning the studio was touting The Expendables 3, which adds Harrison Ford and Mel Gibson to a roster of washed-up action stars. It is also trying to garner some buzz for Vin Diesel vehicle The Last Witch Hunter, and its crews are in London at the moment filming Johnny Depp and Gwyneth Paltrow in a project dubbed Mordecai.
Replacing a huge revenue lump is a good challenge to have, but it's a challenge nonetheless. The saving grace for Lionsgate is that it has a bit of a cushion. Hunger Games will pay off for at least another two years. The studio cleverly split the three-book story into four movies, with installments scheduled to open in late November of 2014 and 2015. After that, the real hunger begins.
Before it's here, it's on the Bloomberg Terminal.
LEARN MORE