Gauging Main Street Hiring: A Chill in October
by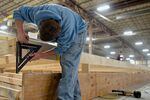 Small employers' confidence soured in October, as firms hired fewer workers and reduced expectations for future growth, according to a bunch of recent surveys. That's no surprise. A partial shutdown of the federal government last month halted Small Business Administration lending, stopped work on federal contracts, and cost the government about $2 billion in lost productivity.
That doesn't mean recent research yields a full consensus. Gauging small companies' hiring depends on how you define "small," as well as doing the counting, and as usual, the New Entrepreneur's roundup of monthly hiring reports shows mixed results.
Companies with fewer than 50 workers added 37,000 jobs in October, down from 68,000 in September, and the lowest total so far this year, according to payroll company ADP. Hiring at businesses with between 20 and 49 employees was particularly sluggish, with those companies adding just 2,000 workers.

SurePayroll's Small Business Scorecard showed a slight downtick in hiring at "microbusinesses," also noting that only 27 percent of respondents expect the fourth quarter of 2013 to be better than the third quarter. The average company in its monthly survey has eight workers.
The CBIZ small business employment index, which measures hiring at more than 3,500 companies with fewer than 300 workers, also decreased. The government shutdown seems to have erased expected gains from holiday hiring, said Philip Noftsinger, president of CBIZ's payroll division, in a statement.
Those results echoed findings from a survey published two weeks ago by Vistage International and the Wall Street Journal, which reported that the heads of companies with $1 million to $20 million in annual revenue were at their least optimistic since January.
Not all post-shutdown research showed small businesses paring back. A report this week from Experian and Moody's Analytics showed small business credit quality improving in spite of the shutdown.
Looking at the broader economy, U.S. companies added 204,000 jobs last month, according to data released this morning by the Bureau of Labor Statistics. That exceeded the median forecast of 91 economists surveyed by Bloomberg, which called for 120,000 jobs. The unemployment rate for self-employed, unincorporated, and unpaid family workers was 5.1 percent in October, down from 5.3 percent in the same month of 2012.
A survey of more than 1,900 members of the National Federation of Independent Business, most of which have fewer than 20 workers, showed that hiring increased slightly last month. But with the potential for another government shutdown in January, small business "owners are not enthusiastic about the prospects for the economy and sales growth, producing a poor outlook for job creation," NFIB chief economist William Dunkelberg said in a statement.
Before it's here, it's on the Bloomberg Terminal.
LEARN MORE